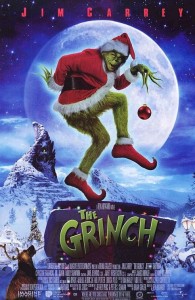 While Dickens' Scrooge was particularly brooding and harsh character who ultimately seeks redemption, Dr. Seuss's Grinch is a diabolical, soulless, and cruel being. Perhaps it is due to his heart which is two sizes too small. Like Scrooge, the Grinch has become synonymous as a name that stands for a hatred of Christmas tidings.
Chuck Jones' original 25 minute production in 1966 of How the Grinch Stole Christmas is a colourful and cheerful animated joy. The songs written by Seuss and Albert Hague are wholesome and hysterical with the best song being "You're a Mean one, Mister Grinch". With lyrics like "You're a monster, Mr. Grinch/Your heart's an empty hole/Your brain is full of spiders/You've got garlic in your soul, Mr Grinch/I wouldn't touch you with a thirty-nine and a half foot pole." Boris Karloff also adds a sinister vocal quality to the story providing both friendly narration and as the devious Grinch.
In 2000, Imagine Entertainment (aka producer Brian Grazer and director Ron Howard) made another adaptation of Dr. Seuss's popular Christmas based story with The Grinch. With a lot of money from Universal Pictures, a notable screen venture came with Jim Carrey as the Grinch himself, hidden behind impressive Oscar winning makeup. As usual, Carrey is over expressive and slightly demented and this energy is thankfully directed into the lively Grinch.
Expanding far beyond the original story, The Grinch illuminates an imagined back story that explains the Grinch's behaviour. The film also expands on the Cindy Lou Who (Taylor Momsen) character, a character only marginally featured in the original story. Howard's adaptation is every bit as colourful and enjoyable as the animated feature and adds some extra humour.
Jeffery Price and Peter Seaman's screenplay sees Cindy Lou coaxing the Grinch back down to Whoville through the guise of an awards ceremony, before the classic story plays out.
An attractive supporting cast appears with the likes of Jeffrey Tambor, Christine Baranski, Bill Irwin, Molly Shannon and the warm Anthony Hopkins as the narrator. The brilliantly bold production design and the buoyantly bright costumes must be acknowledged which help add that Dr. Seuss aesthetic.
Despite the Grinch's angst towards the annual yuletide celebrations, a seasonal turnaround occurs and the ultimate moral of the story is that consumerism is not the secret behind Christmas, but instead a community spirit embodies the essence of the times.
Dr Seuss' How the Grinch Stole Christmas was theatrically released in Australia on November 30, 2000 through Universal Pictures.
[youtube=http://www.youtube.com/watch?v=p1P_giB0TKg]