It was only a matter of time until American filmmakers began to turn their attention to the events surrounding the global financial crisis of 2008, and writer/director J.C Chandor's  feature debut is probably the strongest one to emerge so far. The fact that Margin Call is the director's first major filmmaking effort is all the more surprising considering the self assured way in which the film deals with its chosen subject matter.
Depicting a 24 hour period at a Wall Street investment bank at the infancy of the financial crisis, it features a dream ensemble cast including Kevin Spacey, Paul Bettany, Simon Baker, Demi Moore and Jeremy Irons. The unnamed firm at which they work (apparently loosely based on Lehman Brothers) is thrown into chaos when it becomes apparent that a serious financial miscalculation, and the company's acquisition of high-risk assets, will result in a catastrophic fallout for the firm and the market at large.
Margin Call's chief achievement is its packaging of the potentially dry and dense theoretical explanations of the GFC in a way that those without a strong interest in economics can easily grasp. Nor does Chandor allow the necessary exposition to interrupt the film's dramatic momentum. There is a palpable sense of quiet dread that is maintained throughout as the significance of the character's actions begins to dawn on them, and while they weigh up a number of ethically troublesome decisions in order to preserve their lives of privileged corporate excess.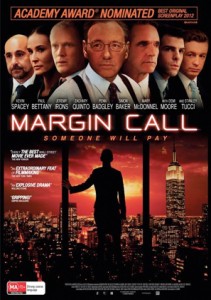 In a strong field of acting talent, Jeremy Irons is definitely the standout as the firm's calculating and ruthless CEO. Despite his character embodying the most unpalatable aspects of contemporary capitalism, Irons lends him a disarming charisma and dominates almost every scene he appears in.
The presence of Kevin Spacey amongst an ensemble cast also invites a number of comparisons with the film Glengarry Glen Ross. Both films deal with individuals who attempt to rationalise their morally questionable behaviour to attain success in their chosen trades. But while Glengarry focuses on those at the lower end of the business chain, Margin Call paints a disturbing picture of those who have reached the summit and will do anything that it takes to remain there.
As the world continues to grapple with economic turmoil on a number of fronts, Margin Call  is a timely and powerful piece of filmmaking, and indicates that J.C. Chandor is a talent to watch in the years to come.
Margin Call is theatrically released in Australia on March 15 through Becker Film Group.