"My mind is telling me no, but my body, my body is telling me yes." And with the sweet vocal stylings of R. Kelly we are transported back into the teenage driven world of the American Pie franchise, with American Reunion.
It's been 12 years since we first met Jim (Jason Biggs) and the boys, and 7 years since we attended the American Wedding. Nothing much has really changed since then. There's a few marriages, a kid, and some grown up jobs, but the bumbling Neanderthal nature is still omnipresent.
Returning back to Great East Falls (aka everyday/Leave it to Beaver suburban America), the boys are faced to deal with another set of life affirming problems. Jim and Michelle's (Allison Hannigan) marriage has turned sexually stale since their son Evan was born, Oz (Chris Klein) has a D-list career as a television sports journalist, Kevin (Thomas Ian Nicholas) does not wear the pants in his Real Housewives dominated domesticity, and Finch (Eddie Kaye Thomas) is without real love despite multifarious aboard travels. Enter the affections of their past (Tara Reid, Mena Suvari) and the appropriate level of cinematic tension is reached.
Trusted with the screenwriting and directing role from original creator Adam Herz, Jon Hurwitz and Hayden Schlossberg continue to deliver the crass, crude and teenage driven gross out humour that featured so prevalently in the first three films with ease.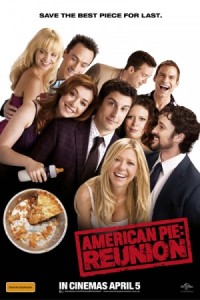 It is disappointing though, that so much time is spent referencing the past films and events in them. Therefore valuable time is wasted in creating new significant memories. Of course films in a franchise do need to remind the audience of who everyone is, but it seems wasteful with such a popular series. Odds are you know who these guys are, and if you don't, it probably won't make that much difference.
Unlike the last effort, the entire cast is back this time round, perhaps signalling the odd stalling career rather as much as a good script/directing team. Some characters only appear for cameo appearances and their appearance only warrants more screen time, especially with the 30 seconds given to the marvellous Natasha Lyonne. On the adults side, Eugene Levy and Jennifer Coolidge manage to have fun and remind us why we really need another Christopher Guest film. Also commendable is John Cho in a hysterically deadpan performance.
American Reunion will satisfy with its intended audience. Sure, it's not as sharp and on-the-pulse as the first film, but it does show a penis. Perhaps Michael Fassbender's appearance in Shame is raising the stakes, and penises are going to be a more frequent occurance in Hollywood. After all, it didn't stifle Jason Segel's career!