Life in Movement details two touring productions of the late dancer and choreographer Tanja Liedtke. Tragically dying at 29 after being hit by a garbage truck, Liedtke had just been appointed the new Artistic Director of Sydney Dance Company. Born in Germany, Liedtke have lived in Spain and the UK before coming to Australia. Residing at a boarding school in her youth informed part of her future work in contemporary dance, especially seen within her first solo creation Twelfth Floor.
Interviews with her family, friends, colleagues and partner shed light on an amazing but short career. Twelfth Floor's touring season abroad in London surrounds the first half of the documentary and expands on Liedtke's background in dance. Self-filmed interviews and personal video footage allows Leidke to speak from the grave and explain her creative processes as well as display her endearingly kooky performance artist within. Filmed rehearsals also show Liedtke's involvement as a dancer within her show as she created it. Her elegance and grace as a dancer is instantly pertinent and it is easy to see how she created such a stir in such a short time.
Control shifts the focuses towards her growing achievements in the contemporary dance world and the mounting pressures surrounding the appointment at the Sydney Dance Company. Prevalent doubts and crippling anxieties consume the very best of performers, and Liedtke demonstrates this in one of a series of video-taped snippets that feature throughout the documentary.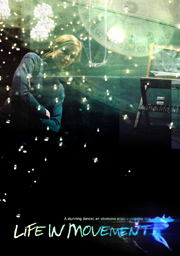 Sophie Hyde and Bryan Mason's documentary pays a great tribute to Liedtke. Merging the performances and interviews they filmed with pre-taped footage of Liedtke create a familiarity and closeness that would be otherwise absent. The pre-taped footage acts as performance pieces by themselves, and are lost artefacts
Grief consumes the final ten minutes as each of the interviewees recount where they were when they heard of Liedtke's death. As a camera slowly travels through the empty streets of Sydney's CBD in the early morning, her closest friends and colleagues detail their inexplicable grief. Without exploiting the subjects or delving into raucous sentimentality, Hyde and Mason create an extremely moving conclusion to a portrait of a great artist. Life in Movement preserves Tanja Liedtke's legacy on film in a medium where her body of work can live on long after her untimely death.
Life in Movement will be released theatrically in Australia on April 12 through Antidote Films.