Manhattan Murder Mystery opens with Bobby Short singing Cole Porter's "I happen to love New York" over the opening credits and adjoining snapshots of the city. By this stage in his career, 23 films in, and 27 years since his directorial debut, it is beyond clear that Woody Allen indeed happens to love New York. Long before his later European dalliances, Manhattan was his town (as voice over dialogue from 1979's Manhattan comes rushing back to mind.)
The Mia Farrow fiasco was just beginning and Diane Keaton took the place of her usual Allen folly. Serving almost literally as a partner in crime, the two reunite on screen as husband and wife solving the crimes of their seemingly normal neighbour.
It started quite simple. After a night at the opera, Larry and Carol Lipton (Allen and Keaton) meet their Neighbours Mr and Mrs House (Jerry Adler and Lynn Cohen). They enjoy quick conversation (well, mainly Carol. Allen plays the familiar neurotic awkward conversationalist) and then move onto their apartment. Only a night or two later, Larry and Carol come home to find that Mrs House has had a heart attack and is dead.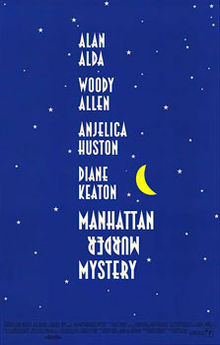 Unable to shake Mrs House's good health, Carol's suspicions are furthered when both herself and Larry run into Mr House in a mood that is removed from bereft. Suspicions are furthered with Carol's close friend Ted (Alan Alda). But of course his interests are clouded in an interest in Carol. Regardless of the circumstances, Carol breaks into Mr House's apartment while he goes to the store (and then returns while she hides under the bed) and unlocks further clues.
Manhattan Murder Mystery is an adventure film, complete with the usual dose of Allen neuroses, awkwardness and enjoyable comedy. It was the first Allen film that this reviewer saw and fell in love with. It still holds up as an innocent and enjoyable romp through marriage and neighbourly suspicion. Including New York as a character in a similar style to his most prolific New York films, Manhattan Murder Mystery continues to make the city into the cultural icon that it is known for.
The players are at their best, with Keaton, Allen, Alda, Adler and Anjelica Huston (as a saucy and alluring novelist) putting in effortless and brilliant comedic performances. Keaton especially is charming, witty, hysterical with only the slightest of glances and proves her worth as a global treasure.)
Borrowing from noir films and buddy comedies, Manhattan Murder Mystery is a film that is enjoyable time and time again, never getting old or boring. Originally intended as the script for Annie Hall (which it clearly didn't become), the film dazzles with inclusions like Benny Goodman's "Sing Sing Sing", which adds some bouncy nostalgia to a period of time that is of fond memories to the filmmaker.
One of Allen's most underrated films (perhaps for having less ambition than his previous attempts with Shadows and Fog, or including less deep and meaningful storylines about lust, family and adultery like in Hannah and Her Sisters), Manhattan Murder Mystery will always shine bright in this reviewer's eyes.
Read more entries in our Wednesdays with Woody feature!