In his latest mainstream comedy, director Richard Linklater reteams with his School Of Rock leading man Jack Black to tell the true story of Bernie Tiede who became the close companion of a thoroughly unlikeable 81 year old millionaire, Majorie Nugent (played here by Shirley MacLaine), before shooting her and subsequently being committed of the crime by ambitious Texan district attorney Danny "Buck" Davidson (Matthew McConaughey). While not usually the subject matter for a mainstream comedy, that is exactly what Bernie strives for and mostly achieves without descending into familiar black comedy territory.
The movie is comprised of fake interviews with the residents of the small Texas town Carthage (where the murder took place), told against the re-enactment of the story itself, which has Bernie coming into the town as an assistant undertaker and quickly becoming much loved by the community, to the extent that his trial is moved to another district because none of the townspeople would think to convict him. This faux-documentary approach by Linklater is mostly effective, creating a rich source of humour from the townspeople's distinctly Southern mannerisms and expressions (some of whom are reportedly real people from Carthage), but becomes slightly tedious as the story gets getting proper.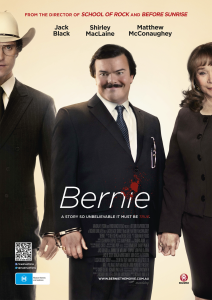 The performances in the film are some of the best seen in a mainstream comedy in a long, long time. Jack Black is pure perfection in the title role and was unjustly overlooked in the last award season when the film was released theatrically in the United States. The way he evokes the character of Bernie in the slightest of details, right down to the way he uses his hands and the gold ring on his little finger, is effectively the comedy equivalent of Robert De Niro mimicking Jake LaMotta dramatically in Raging Bull. Shirley MacLaine is great as the despicable Majorie, and Matthew McConaughey (whose real life mother appears memorably as one of the townspeople) uses his charm and charisma to hilarious effect as the self-promoting and righteous D.A. that isn't blinded by Bernie's charm.
Despite the tiring documentary styled structure, Bernie is a highly hilarious must see for Jack Black's career best performance in the title role.
Bernie is in Australian cinemas from 16 August through Madman Films.