If we have learnt anything from Australian Drama Conspiracy 365 it's that we never know what will happen next.  Cal's (Harrison Gilbertson) twin Ryan has been found and now that the cat's out of the bag his mum (Kate Kendall) finally admits her babies were abducted but 'Samuel' was never found.  Way to hold onto a giant family secret Mum!  Didn't think that might be important hey?
Meanwhile I'm sure that Rafe (David Whiteley) is spiking Cal's mother's tea with something that's making her dopier than usual.  That Rafe's a real jerk face.  He totally wants her ass on a platter but is hiding behind his dead brothers looks.  He is soooo the evil twin.
I must admit my heart broke a little when the bromance between bestie Bogues (Taylor Glockner) and Cal seemed like it was over but I knew he'd come back and help Cal.  He's such a good boy that Bogues. The more I see of that Nelson creep the more I don't like him.  What's his agenda and why is he so keen to help Cal?  He just doesn't seem legit.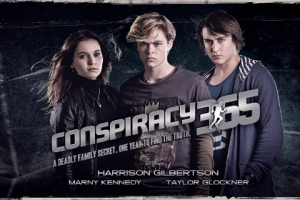 Now that Cal has figured out that he is the rightful owner of the 'Ormond Singularity' and that he is a direct descendant of some 16th century Queen all he has to do now is figure out the remaining lines of the riddle and then steal back the gem and the first six lines of the riddle from Oriana. (Julia Zemiro) and he's in with a fighting chance to regain his lost fortune.
At long last it was great to have the countdown explained without the presence of the Pajama Man, he was growing tired and I was, quite frankly, a little confused. What has happened to Repro (Syd Brisbane)? The last we saw he fell off the back of a ute driving at full speed. Kate's really starting to miss him Kate is.
Overall, the highlight of the night was Bogues awesome bug 'bug'.  Ingenious as usual!  With his range of skills and precision this kid should work for the FBI. I think it was clear that Oriana's brother didn't shoot Cal in the bush but instead let him go free, I could just sense he was a gutless wonder as Oriana points out frequently and it seems, correctly.
I'm not sure what the October episode will bring but I do know it will be fast paced and very cool, hopefully we can learn more about Winter's parents and the scandal behind their deaths. But we shall wait another month to be tricked, tested and amazed.
92 days to go……
Conspiracy 365, September airs on FMC on Saturday 1st September on FMC. You can read more reviews of this series on our Conspiracy 365 page.