Bachir Lazar (Mohamed Fellag) is an Algerian immigrant who shows up looking for employment at a Montreal elementary school following the suicide of a teacher. After initial apprehension from the school's headmistress Madame Vaillancourt (Danielle Proulx), he is hired and it doesn't take long to see the profound effect he has on the children. Lazhar has a beautiful honesty about him and despite cultural differences, as well as the fact he is 'only' their replacement teacher, plays an incredibly important part in the lives of his students.
The first thing Lazhar says to his pupils is "Bachir means bearer of good news", and he is certainly a breath of fresh air in an otherwise stale learning environment. This is a powerful portrait of a man trying to make a difference in his students' lives, a man who treats the classroom as more than a place to bark orders at children for seven hours a day. Lazhar tells his students a classroom is a "home, a place of friendship, of work and courtesy. A place full of life." They have been forced to deal with adult concepts well before their time, and following the tragedy at the start of the film, this is precisely what Lazhar does, he brings his students back to life.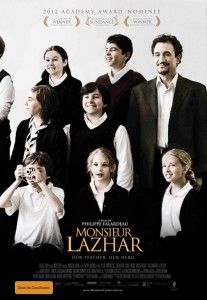 Grief is at the forefront of Monsieur Lazhar, both the man and the film in its entirety. Everyone responds to death differently, however there is almost a universal hesitation to openly discuss its implications on others, especially when it comes to the sensitive nature of suicide and the involvement of children. Lazhar treats his students with respect and gives them the voice they deserve.
Traditional in his methods, Lazhar also brings an individualistic, alternative perspective to his students. He has a beautiful rapport with the children, guiding them through their traumatic experience while dealing with his own personal demons. Although they might not know it, he needs them as much as they need him. There are no easy answers, but Monsieur Lazhar isn't looking for them. At 94 minutes this film is short and incredible sweet, the subject melancholic, yet very enjoyable.
Nominated for Best Foreign Language Film at the 2012 Academy Awards and written and directed by Philippe Falardeau, Monsieur Lazhar has deservedly received copious amounts of critical acclaim, and it certainly doesn't stop here.
Monsieur Lazhar is in Australian cinemas from 6 September through Palace Films.