It is fairly stock standard for long monologues to be chewed up by the actors on The Newsroom. Aaron Sorkin (who consistently credits himself as the writer, with a small team of staff writers) has some thoughts about the state of the modern world, and it is through his characters that we glean a sense of these thoughts. Of course, they may not be completely representative of his every opinion, but it seems fair to imagine they are close.
Episode eight ("The Blackout Part 1: Tragedy Porn") featured not one, not two, but three significant solo rants, all from the three principal female characters. Exhaustion clearly visible on an actors face upon completion signifies the peak of a good Sorkin rant (for those of a liberal minded persuasion, which is a safe assumption amongst Newsroom viewers). The best Sorkin rants were issued from Mackenzie (Emily Mortimer), Maggie (Alison Pill) and Sloane (Olivia Munn), all executed with strong brevity (yes, it does read like an oxymoron) and understandable frustration. Though Sorkin's female characters have been criticised (here and abroad) for some problematic human coordination abilities, this episode steered away from such problems, instead casting the women as highly intelligible and able to strongly argue their point.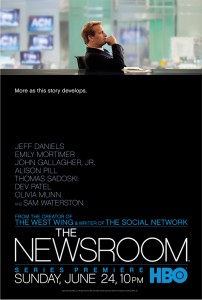 Two topics chosen as the stories of the episode (Casey Anthony trial, Anthony Weiner's wiener) seemed to work well with a focus on differences between tabloid news infotainment, hard news, and the choice of audience engagement. The News of the World linked well to Leona Lansing (Jane Fonda) and her tabloid publication TMI with a useful "drawing on real life stories" in the style of Law and Order.
One major plot element that did not work was the inclusion of Brian Brenner (Paul Schneider), aka the ex-boyfriend Mackenzie's cheated with while dating Will (Jeff Daniels). Perennial back-and-forth dramas with the two leads is certainly not as stale as the Maggie-Jim-Don love triangle (which thankfully was not included in the episode), but Brenner's appearance was too convenient. Insights into secretive behaviour of backstage dramas were far too quick on the uptake, and the jig was up when Brenner surmised the whole Lansing-possibly-firing-Will plot within ten seconds. Sorkin, you are being lazy. It is so unlikely this man would have understood that so quickly. We are not fools!
Acting wise, it was lovely to get a surprise appearance from Jane Fonda, reminding the viewer that she needs much more airtime (season two perhaps….?) Sam Waterston continues to please as Charlie, and Mortimer, Pill and Munn were all very enjoyable with their sizable aforementioned Sorkin rants.
With two more episodes to go, it is very curious how The Newsroom will tie up loose ends, while leaving enough open ended stories for the second season. More on this as it unfolds.
The Newsroom airs Monday nights on the SoHo channel. Read more episode reviews of this season.