Only Cleaver Green (Richard Roxburgh) could defend Alex Alford (Stephen Curry) an I.T nerd accused of drugging his neighbour, cutting off his penis and tying off the wound to stop the man bleeding to death.In a hilarious courtroom display Cleave tries his best not to get caught up in the naming of the offending…errr…appendage. Apparently 'penis' is just too amusing and 'grubby' so the Latin name is decided upon, it's a pity that no one on the stand knows what a 'memvum virrili' actually is!
Meanwhile poor, poor deluded Fuzz (Keegan Joyce) has found God and by doing so has a new younger girlfriend, she enjoys a good old sing-a-long in praise of the man upstairs in replacement of grace at the dinner table.  I know it's wrong but I just love schoolboy Fuzz.  He's so completely tainted by life already and yet his parents, one of whom is a psychologist and the other is the doomed Cleave, wonder why he's so odd.  With parents like these, cute and curly haired Fuzz was doomed from day dot.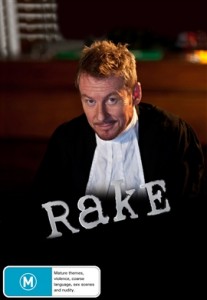 Enter charm-pot Rodger (Martin Sacks) for Fuzz' birthday celebration. Cleave describes him as 'the husband of the neighbor our son was porking' and yet he's Wendy's (Caroline Brazier) new man and she and Fuzz hug him on arrival. Cleave is clearly jealous, perhaps of the family he took for granted and lost so many moons ago and with Missy (Adrienne Pickering) refusing to go along with his lies about 'making chutney' to outsmart the delectable Rodger, our beloved Cleave is made to look the fool once more.
Back in the office Barney (Russell Dykstra) and Nicole (Kate Box) are at it again, screwing like rabbits and cheating on their partners, trying to deny their 'feelings' for each other.  Barney's so caught up that he's not the kind of man who just 'fucks' women randomly and Nicole is weeping at every opportunity due to the guilt, she is after all, marrying the faceless and  'perfect' Bevan in weeks.
It's only on the wedding day when Cleave tries to help 'Old Barnyard' out by attempting to stop the wedding that Barney realizes he is just in it for the sex, he is that kind of man and he doesn't love Nicole after all.   I knew it all along.  He is just the same as naughty wifey Scarlett.  I blame Cleave, whose amoral love of sin must be rubbing off on the once loveable and faithful Barney.
Creepy old Cal (Damien Garvey) continues his nasty ways in office until Scarlett (Danielle Cormack) makes a stand and quits. Finally! This dirty old beggar makes me sicker than Sir Les Patterson's dental hygiene.  The thought of him near me makes my skin crawl.  Damien Garvey is doing an outstanding job of portraying this absolute creepy bastard.
Finally, just as Cleaves injured testicles begin to heal I have no doubt that it's a mere matter of time before he gets kicked in the nuts again.  And he'd have it coming.
Oh, Richard Roxburgh how you make me love and hate you all at once.  Sigh.
Rake airs on Thursdays at 8.30pm on ABC1. Read more reviews in this series.