So many voices were silenced and so many lives were lost during the 1980s AIDS pandemic. That such talent was lost has not been forgotten thanks to the important work of people like Mimi Stern-Wolfe. A conductor and concert pianist, Mimi puts on a concert each year on World AIDS Day (December 1st). Documentarian Rohan Spong has followed Mimi as she put on the concert in 2010.
All the Way Through Evening is a simple documentary about a significant issue. The concert serves as the backdrop and the entry point into the discussion of those composers whose work is featured. As the stories of the composers are described, musical interludes demonstrate the power of their works within the AIDS crisis. Heldentenor Gilles Denizot joins Mimi in her annual concert and is at best during the final concert piece "Walt Whitman 1989" composed by Chris DeBlasio and words by Perry Brass.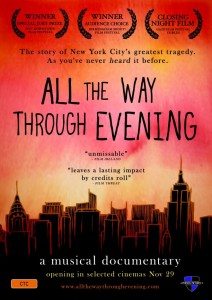 Known as a haven for art-lovers around the world, the East Village in Manhattan housed many of those who were taken by the AIDS virus, and remains a strong setting for the film. Though the East Village is noted as being different now, the memories are powerful, highlighted by the interviews given with Mimi. A woman with a strong life force, Mimi has that essential spark required of interesting documentary subjects. She is engaging without any shred of sentimentality or maudlinness, just like all of the interview subjects.
Best known for his documentary T is for Teacher, Spong delicately looks at four artists and composers whose work is featured by Mimi in her concerts: Kevin Oldham, Robert Chesley, Eric Benson and Chris DeBlasio. Talking to their partners and family members, the personal connection is made all too clearly. Not only were these significant but forgotten voices, but they were also men loved by their friends and family.
All the Way Through Evening is a deeply moving documentary that stays with you long after the credits roll. It not only celebrates the memorial concert on World AIDS Day, but also continues to acknowledge these composers through another art form. Most importantly, the documentary reminds us that even though time has passed, we cannot forget what was lost. This is best recognised in the lyrics of Kevin Oldham's "Not Even If I Try": "I won't forget, I can't forget, not even if I tried."
All the Way Through Evening is in limited Australian cinemas from Thursday 29 November and is released through Perseus Pictures.