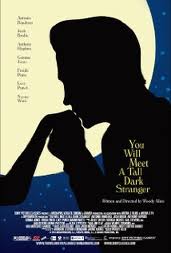 You Will Meet A Tall Dark Stranger sees Woody Allen continuing the trend to shoot in and around London instead of his classic movie home of New York City.
Dark Stranger comes in the midst of Allen's recent resurgence in the cinema with critically acclaimed hits such as the busy and provocative Match Point and Vicky Cristina Barcelona. It seems odd to follow with a seemingly offbeat and quiet film.
The story follows an old couple Alfie (Anthony Hopkins) and Helena (Gemma Jones) who had recently divorced after decades together. Their daughter, Sally (Naomi Watts) and her husband Roy (Josh Brolin) are suffering their own problems. In a cringe worthy last stab at youth, Alfie leaves Helena to pursue a more youthful lifestyle and marries a dim-witted call girl named Charmaine (Lucy Punch).
Meanwhile, Helena takes refuge in strong alcohol and frequent visits to her fortune teller (Pauline Collins).  Sally develops a crush on her new boss (Antonio Banderas) while Roy falls in love with a girl across the street from his house.
The film follows these couples, their anxieties and their passions through the typical Allen script of busy overlapping sentences. The cast is fantastic and is such a mishmash of A-grade talent that their dramas seem quite realistic. Watts is at her best when directed by masters like Allen. Experts such as Jones, Collins and Hopkins do what they do best and it works. The chemistry between the characters is rich, benefiting the script very well.
Veteran cinematographer Vilmos Zsigmond manages to weave his camera in and out of rooms while capturing the characters' chattering neurotically at each other.
Hitting nowhere near the heights of Match Point or Midnight In Paris, Dark Stranger is still a worthy Allen entry that is highly enjoyable.