Adapted from the popular series of novels by Lee Childs, Jack Reacher is a big budget, franchise baiting attempt to create a darker, edgier hero for a modern (perhaps more cynical) cinema audience that ultimately falls short of the mark.
The story concerns to the title character (Tom Cruise), a mysterious former MP investigator, who uncovers a conspiracy involving a seemingly random shooting spree allegedly by a sniper who he once investigated. He's joined by a cute lawyer (Rosamund Pike) whose father (Richard Jenkins) may or may not be involved with the crime, and much later into the film, Robert Duvall as another former sniper who helped train the accused man.
The second directorial effort from Academy Award Winning screenwriter Christopher McQuarrie (The Usual Suspects), whose first film The Way Of The Gun has since become something of a cult classic, the direction mostly delivers on the early promise of that film. There is an original flair to his assured direction and he builds sequences excellently with dynamic camera work. The opening sequence shot through the lens of a sniper rifle is chillingly effective and indicative of a director with a unique style.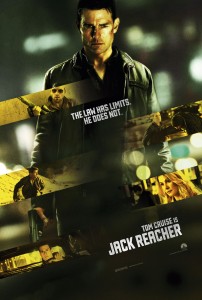 The main problem of the film is in McQuarrie's screenplay, specifically his dialogue which is relentlessly over written and bogged down in exposition. This is especially evident in the introduction of Reacher where McQuarrie tries way too hard to create and build the mythical status of the character that is obvious from the beginning. His tone is also wildly inconsistent, with black comedy coming seemingly from nowhere, and attempts to rise above standard action clichés before falling right into them. The nihilism on display in the ending, where the characters make light of the hero murdering someone in cold blood, is unpleasant to say the least.
The script isn't helped by Cruise who in a departure from his normal fare (think Mission: Impossible) is miscast as the edgy and dangerous anti-hero. Duvall, in basically a cameo, has the same winning dynamic with Cruise they shared in Days Of Thunder, but the most interesting performance in the film is easily the German director Werner Herzog as the leader of the criminal network at the heart of the conspiracy. Giving the role the same gravitas his appearances in his documentaries have, his delivery of the line "Did I have a knife in Siberia?" will be remembered as perhaps the only truly memorable thing to come out of the film.
Despite some interesting direction, the film suffers from an over written and tonally inconsistent screenplay and the miscasting of its leading man which ultimately makes it something of a letdown for fans of the director or the star.
Jack Reacher is in Australian cinemas from 3 January through Paramount Pictures