After appearing in Knocked Up, Leslie Mann and Paul Rudd reprise their characters Debbie and Pete in the "sort of" sequel This is 40, written and directed by Mann's off-screen husband and producing juggernaut Judd Apatow.
Pete (Paul Rudd) and Debbie (Leslie Mann) are 40. When we find them, they are contemplating Pete's birthday party. Debbie is also turning 40 but refuses to acknowledge it, instead turning 38 for another year. She's just not ready apparently, despite looking so damn fine and two more years is all she needs.
In over their financial heads with debt, Debbie and Pete are the typical affluent family living within their means in the crippling economy. Debbie owns her own boutique store and potentially has one of her employees (Megan Fox) stealing a great deal of money, while Pete has troubling selling albums through the record label he began. Their two children Sadie (Maude Apatow) and Charlotte (Iris Apatow) are typical contemporary children dependent on technology and constantly fighting.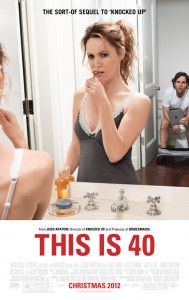 Unsurprisingly, this middle-aged couple frequently fight while trying to live the American dream. Instead of dealing one significant relationship conflict to the leading couple, continuous issues are delivered consistently throughout the film. This may be influenced by reality in which tensions are unexpected and continuous, but from a narrative standpoint, it is too overwhelming to resolve all of the problems by the end of the film.
Common in films produced with a pleasant Hollywood budget, the characters lead extremely opulent lives. It's hard to express sympathy for the downtrodden when such a lifestyle is clearly excessive in the first place. Apatow wants us to empathize with these rather renegade atypical parents, but the results come across as partially ridiculous instead (especially when the amount of money that Pete has loaned his father has been revealed.)
Leslie Mann and Paul Rudd both give solid performances. Rudd is quite likable and Mann is charming, most especially during a dance-off with Megan Fox to Nicki Minaj in a club. Mann and Apatow's real life children are also enjoyable as the two daughters but help amplify the already ubiquitous whining that borders on repelling.
This is 40 is enjoyable for most of its performances (despite the underused Melissa McCarthy and the strangely used Chris O'Dowd and Lena Dunham) and for the jokes, but far too long in length and far too ambitious in scope. Much of the 134 minute running time was definitely eligible for some trimming.
This is 40 is in Australian cinemas from Thursday 17 January through Universal Pictures.