I'm sure by now the vitriol surrounding Movie 43 will have reached each and every one of you, and I wish I had something better to say, but as much as I am a purveyor of trashtastic cinema, Movie 43 fell way short of being even a little bit ok.
Tenuously held together by the story of a washed up screen writer pitching horrible film ideas to a Hollywood producer, Movie 43's vignettes do not push the boundaries of taste, or any boundaries for that matter; the producer-screenwriter bit takes up so much of the film each short film has time for one punch line, and each of those punch lines are featured in the trailer.
I thought perhaps the saggy old critics in the US who have been hounding this film had just lost their sense of humour after years of reviewing films (have you noticed how crotchety critics get after too long in the spot-light?) and I would be able to tell you the reason so many great actors and actresses are in this film (seriously, Oscar winners like Kate Winslet and Halle Berry, and recent Golden Globe winner Hugh Jackman, not to mention Greg Kinnear, Naomi Watts, Kieran Culkin, Emma Stone and Richard Gere) is because despite their celebrity, these people have a sense of humour, but I'm afraid that is not the case.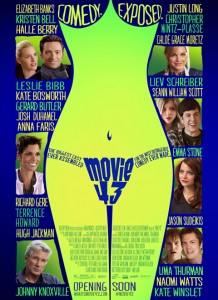 Movie 43 is tasteless, unoriginal, and quite frankly, in many instances, stupid. The only story that really made me smile was Superhero Speed-dating, and only really because it wasn't completely ridiculous (contextually) and it wasn't featured in the trailer. If you want a laugh, look elsewhere.
NB to the Producers of Movie 43: Just in case you ever see this, perhaps your film would have benefitted from bending the completely random elements a little more and opting, instead of the tenuous link up of the film pitch, instead going for intertitles that simply broke up each story with something like "meanwhile in a supermarket in middle America" instead of trying to link them together. The Pitch lost its verve after the first cut-back, and continuing with the story line took time away from the film that you could have filled with more vignettes and more punch lines.
Movie 43 is in Australian cinemas from 7 February through Roadshow Films.