Showing as part of the section of "Women's Stories" this year in the French Film Festival is On Air, a character driven drama that follows an emotionally damaged women's search for closure with the mother who gave her up to an orphanage as a child.
Cesar award winning actress Karin Viard plays the 40 year old main character that essentially has two personas. As Melina she is a famous radio personality whose call back show centers around dispensing life and relationship advice. As Claire though, she is a neurotic, phobia plagued, lonely women in dire need of the very advice she gives out each night. After consulting a private detective agency, Claire tracks down her biological mother (Nadia Barentin) and through a series of misunderstandings finds herself welcomed into her large extended family, without revealing to her mother that she is her daughter, and becomes the object of affection to her mother's son's stepson (Nicolas Duvauchelle).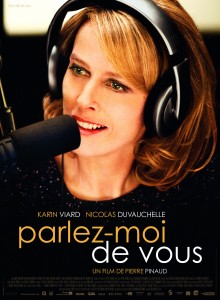 There seems to be convention in the storytelling of modern movies that if the plot hasn't already been spoiled by exposition heavy trailers, then it almost certainly will be within the first ten minutes of the movie starting. To the credit of writer/director Pierre Pinaud, he takes his time establishing the characters and their places within the story, and subsequently doesn't offer the audience a pre-destined conclusion, but lets it unfold as the film progresses.
Although the film is clearly centered around the richly textured performance of Viard who blends the two personas of Melina and Claire seamlessly into a cohesive whole, she is given able support from Barentin who gives an extremely naturalistic performance as the mother, and Duvauchelle as her much younger love interest who's advance she dismisses in spite of her true feelings. The film is shot beautifully with dark widescreen cinematography and stark, spare compositions which reflect the emotional state of the main character and contrasts splendidly with the full, warm scenes of the family.
It may not set its sights terribly high, but On Air doesn't fall short either. It's a well-crafted character drama with a fine performance from its leading lady that only really falls over in its complete lack of an ending which seems to offer no resolution for its characters or a reason for its abruptness. Still, a strong, sensitive and worthy effort.
On Air is screening at the 2013 Alliance Francaise French Film Festival running from March 5 – April 7 across Australian cities.