Produced a year after the relative disappointment of Vertigo (despite going onto an appreciated future in retrospect), North by Northwest is important for being among Alfred Hitchcock's last major film successes. It is also notable for being the final time in which Cary Grant would act in a Hitchcock film, after a collaboration of three previous films.
Grant plays Roger O. Thornhill, a Madison Avenue advertising executive who is mistaken for a government agent by a group of foreign spies, with the help of Eve Kendall (Eva Marie Saint), who may or may not be trustworthy, Thornhill travels across the country looking to save his own life.
North by Northwest is a strikingly modern film and would set the tone for the spy-craze, which would occur in the mid-1960s. The memorable opening title sequence, by graphic designer Saul Bass, is reminiscent of the opening sequence to the popular television series, Mad Men. From the confusing opening scenes where Thornhill is first misidentified, to the panning shots of the now-famous cornfield scene, Bernard Hermann's striking score adds to the tension and the chaos of Thornhill's plight.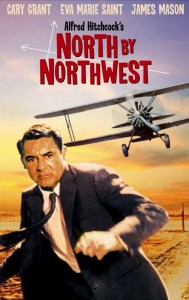 This is the only time Hitchcock worked with MGM, who had originally envisioned the director making a film adaptation of the Hammond Innes novel, The Wreck of the Mary Deare. When screenwriter, Ernest Lehman, couldn't come up with an enthralling screenplay from Innes' novel, he set out to make "the Hitchcock picture to end all Hitchcock pictures." North By Northwest has been dubbed as the first James Bond film, with it's charming leading man, elaborate production design and high calibre cast. Notably, Grant had turned down the role of James Bond when Dr. No went into production.
MGM had originally wanted Cyd Charisse to star opposite Grant, but Hitchcock wanted the recent Oscar winning On the Waterfront star Eva Marie Saint for the cool modern blonde spy. James Mason also joined the cast when he was chosen to play the charmingly, cool villain.
Shot in the expansive Vistavision, long time Hitchcock collaborator cinematographer, Robert Burks – who had previously won an Oscar for Hitchcock's To Catch a Thief – gave the film its modern edge of sweeping panoramic shots.
North by Northwest has recently been restored and is being showcased at the Astor Theatre in a 4K DCP (digital cinema package) print. Enhancing the original 1950s production values in its VistaVision wide aspect ratio, no other Hitchcock film was so extensively filmed on location. A film to be enjoyed for people who are new to Hitchcock or fans of spy thrillers, North by Northwest has the all of the ingredients for a highly successful classic.
North by Northwest is screening at the Astor Theatre on Thursday 14 March – Saturday 16 March.