Adapted from the short stories of Canadian author Craig Davidson, Rust and Bone is the latest offering from French filmmaker Jacques Audiard, the director behind the acclaimed A Prophet and The Beat My Heart Skipped.
The film opens with the penniless Ali (Matthias Schoenaerts), a self-involved, thuggish character as he travels with his five-year-old son Sam (Armand Verdure) from Belgium to the south of France to stay with his sympathetic sister Anna (Corinne Masiero).  Working as a bouncer at a local nightclub, Ali soon meets Stephanie (Marion Cotillard), a trainer of orca whales at the local tourist marina, when he comes to her aid during an explicit bar fight.  Taking her home after the incident, Ali leaves his number with Stephanie in hopes of seeing her again.
Catastrophe strikes when Stephanie is involved in a horrible accident at the park.  A collapsed stage throws her into the surrounding waters where she was attacked by one of the whales.  Awaking in hospital, she learns that both legs have been amputated. Now housebound and stifled by the support of family and friends, she reaches out to Ari for companionship.  Coming to her aid again, Ari takes her to the beach and in swimming together, shows Stephanie a glimpse of her former life.  The two strike an immediate friendship and soon find themselves in a casual sexual relationship.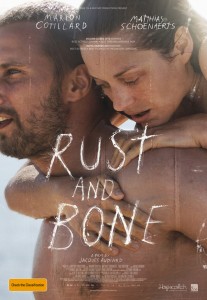 Stephanie learns that Ari is involved in an illegal, mixed martial arts ring and instead of rebelling against the obvious dangers, sides with him and offers encouragement throughout his fights.  Ari has clearly had issues with aggression and neglect in the past and is presumably fighting to support his son, but also uses the fights to give in to his animalistic nature.  The relationship between the two becomes more entrenched they progressively lean on one another more and more.
Rust and Bone is an expertly directed drama.  Audiard lets the characters play out their story with little intervention. The film toes the line between melodrama and tacky, Hallmark moments skilfully, calling to mind Million Dollar Baby and The Fighter, for both their emphasis on physical violence and intimate character studies.
The performances across the board are terrific.  Cotillard was nominated for a Golden Globe, BAFTA and Screen Actors Guild Award for her role as Stephanie, and shows her vast range as one the best actresses working today.  Similarly, Matthias Schoenaerts completely embodies his role. His portrayal of a damaged MMA fighter is analogous to Mickey Rourke in The Wrestler in that the line between fiction and documentary at times becomes blurred.
Accompanying Audiard's refined direction, are some striking images from cinematographer Stéphane Fontain, whose use of natural light and handhold camera techniques add an understated beauty to the realism of the film.  Likewise, always-exquisite composer Alexandre Desplat provides a moving and emotion-filled score, which seamlessly complements the subtle mood of the picture.
The contrast between the softer moments of the film with the raw aggression that seems to emanate from both Ari and Stephanie, leave the viewer remembering the film much like a psychical bruise. Rust and Bone is an emotionally raw film, contrasting aggression with genuine intimacy and stays with you long after you have left the cinema.
Rust and Bone is in Australian cinemas from 28 March through Hopscotch Films.