Sacha (Gad Elmaleh) is living the life; he plays to revelers a jazz bar late at night, he beds beautiful women later those nights, and his mother comes to clean his apartment and bring his food in the morning before he trots off to work as a jingle composer at a major advertising firm. On one such day, after defending the worth of a five second sound bite to his womanizing, hard to please boss, he meets the clumsy yet alluring Charlotte (Sophie Marceau), who quite literally falls head over heels in front of him. And so begins (immediately) a torrid love affair which is complicated by the existence of small, scary people who terrify Sacha: Charlotte's children, and her frightening ex-husband: Sacha's boss.
Co-screenwriter/director James Huth's Happiness Never Comes Alone is a hilarious, almost slapstick romantic comedy which is sweet and quirky as only the French know how to master. While the development of the relationship between Sacha and the children is predictable, it is also quite heartwarming, and hilarious. However, is this woman and her children worth everything he's worked his whole life to achieve? His friends are split on the matter and so the struggle between love and work begins to tear Sacha's once perfect life asunder.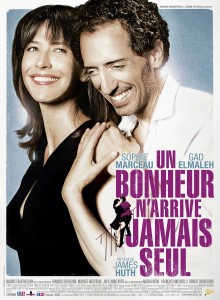 Marceau is beguiling and throws herself into the role with such gusto she seems almost certain to have broken some bones in the process. Elmaleh will be a familiar face to many film goers, appearing in many French films and Hollywood films set in Paris, and he is no less charming as the star crossed lover than he is as the confused detective thrown further and further back in time in Midnight In Paris. Happiness Never Comes Alone is a perfect date night movie with a fantastic soundtrack, many references to cinema classics such as Casablanca, West Side Story and Singin' in the Rain, and old school physical comedy so perfectly timed it elicited a rare out loud chortle from this humble reviewer on more than one occasion. It drags a little around the edges, but most of all this film is charming. Those not charmed by usual romantic comedy outputs beware, you may just be charmed by this one.
Happiness Never Comes Alone is in Australian cinemas from 30 May through Madman Films.