The latest offering from M. Night Shyamalan, After Earth, is based on a story written by actor Will Smith. Starring Smith and his real life son, Jaden Smith, as father son team Cypher and Kitai Raige, the pair live in the very distant future of the human race. The back story is a little unclear, Jaden Smith has a rather confusing accent at times, but basically humans are terrible and ruined earth so we had to resettle the human race on other planets. But other planets come with big scary monsters that are blind but can smell fear. Enter Cypher, a superhuman free of fear who goes around killing the Nova's and training up new cadets to "ghost" (be without fear and therefore invisible to the Nova).
Kitai wants nothing more than to be a ranger like his father but he is paralysed by his fear in the field. In an effort to reconnect with his son after being away for most of his life, Cypher invites Kitai on his next trip, but the space-ship gets smashed in an asteroid storm and the only place they can land is on Earth where, in our absence, everything has evolved to be a human killing machine. Cypher has two severely broken legs, so it's up to Kitai to trek 100 km to where the back end of the space ship crashed to get a beacon so they can be rescued.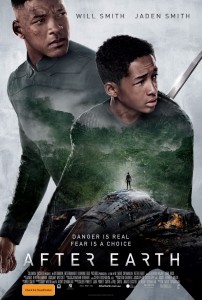 The majority of the film is about the journey Kitai goes on and the fixing of his relationship with his father, there's also a little to-ing and fro-ing that explains why Kitai is so affected by fear. But in amongst all the vicious animals that are trying to kill him, the drama that occurs when he breaks some important capsules and starts being stalked by a giant bird, loses communication with his father and collapses before he gets to a hot point for the night, is a tale about a son trying to live up to the expectations of his high flying father, and perhaps some parallels with the real world lives of the Smiths.
Apparently the film has strong scientology undertones (although Will Smith staunchly denies being a member of the church) and this is allegedly why the film has bombed at the box office in the US. After Earth is a little slow moving at times and the drama is derivative but it's a solid sci-fi film with solid action and some really sweet moments between father and son. The plot is a little jumpy at times and the supporting cast is really under-used, but After Earth is inoffensive and easy to digest.
After Earth is in Australian cinemas from 13 June through Sony Pictures.