From the country that may have created the social-realism genre with Sergei Eisenstein's silent masterpiece Strike, A Long And Happy Life could be seen as something of a modern day re-assessment of working men's status, that's well made and tells the plight of its protagonist with a gripping sense of realism.
Set in a small village in Northern Russia, we meet the young and idealistic Sasha (Alexander Yatsenko) as he's negotiating for the council (whom his beautiful girlfriend also works for) to pay him off for his land so they can bring in developers and bull doze his farm. He negotiates a strong deal but while the bank draws up the paperwork, he foolishly breaks the news to the farmers he has working for him. With no job prospects of their own and nowhere to go, they fill Sasha with the idealistic sense of hope in what he wanted to achieve when he first bought the farm and they convince him to reject their offer. Despite the council's threats and the anger from his girlfriend who feels betrayed by him, he remains steadfast in his decision. Following the warm-hearted first half where the men band together to protect and build up the farm the story takes an unexpected turn that re-contextualizes everything that's come before it.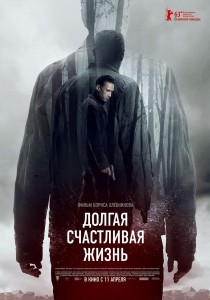 Shot on hand-held camera with what seems to be mostly natural light for its exteriors, combined with the natural rugged beauty of the locations; the digital cinematography by Pavel Kostomarov not only looks beautiful but adds a nice air of realism to the film. The film is well directed by Boris Hlebnikov and Yatsenko as Sasha makes an attractive and interesting screen presence.
At a mere 72 minutes (of screen time), its perhaps expected that the main flaw with the film is that it feels like its missing some of its story, despite it being relatively well fleshed out. Perhaps the problem is that there simply wasn't enough story to tell and consequently the effect on the audience is somewhat negligible.
Ultimately a bitter and sad statement on the collective integrity of the working class in modern Russia, A Long And Happy Life is a well-made, if uninvolving, film.
A Long and Happy Life is screening as part of the 2013 Russian Resurrection Film Festival. For session times and further info, visit the RRFF website.