With such civilised pictures as Pusher, Bleeder, Fear X, With Bloody On My Hands: Pusher 2, I'm the Angel of Death: Pusher 3 and Valhalla Rising to his name, Nicolas Winding Refn certainly has a theme. His most critically acclaimed work to date was 2011's Drive, a bloody tale starring Ryan Gosling, and here he writes and directs the follow-up Only God Forgives, a bloody tale starring Ryan Gosling.
Here Gosling plays Julian, a respected drug-dealer in the Bangkok underworld operating under the front of a boxing club. When his brother, Billy (Tom Burke), kills a 16-year-old prostitute, police chief Chang (Vithaya Pansringarm), also known as the Angel of Death, arrives with the prostitute's father. What follows is Billy's brutal death.
This sets in motion a course of events starting with the surprising arrival of Billy and Julian's cold-hearted mother, Crystal (Kristin Scott Thomas). Determined to clean up the mess, she attempts to goad Julian, her less favoured son, into pursuing revenge for Billy. Unlike Billy, Julian has a conscience to grapple with, but regardless Crystal presses on with her plan to take out Chang. The Angel of Death, however, has a unique idea of justice and will not roll over lightly.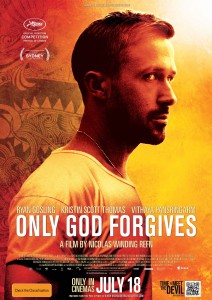 Premiering at this year's Cannes Film Festival to initial boos, Refn and Gosling's second joint effort has proven divisive amongst audiences. You can't deny Refn's style has a distinctive formality to it, which is very attractive to look at. With dialogue as scarce as you could imagine, each frame is arranged so precisely as to create a portrait, not of modern Bangkok, but rather a fairy tale world bathed in neon light and cloaked by oppressive shadow. A world hollow and devoid of joy, this is effectively enhanced by Cliff Martinez' ambient score.
However, the stylistic appeal of this is overwhelmed by Refn's over-developed sweet-tooth for violence, which is enhanced to gory lengths with the help of a sword-wielding Terminator-like police chief. Perhaps the folk at Cannes couldn't see a distinct point to Refn emphasising the sleaze and violence to such an extent. Indeed, a lot of this does seem to be lacking a point or motivation.
In accordance with the setting, the characters are not what you'd recognise to be real people but rather slow-moving inhabitants of an extended dream sequence dimly reminiscent of Twin Peaks. Unfortunately, Gosling has less than none of the charm of Kyle MacLachlan's Agent Dale Cooper, and his unflinchingly doleful and mute Julian ultimately becomes boring after a few minutes. Pansringarm's Chang, with his black-and-white vision of justice, is at least marginally compelling, but his character's depth, like the rest, is minimally drawn. Thank god for Kristin Scott Thomas's plain-speaking Crystal, who at least adds some flavour to what is a monotonous landscape punctuated mostly by blood and seediness.
Only God Forgives is  out on limited release from July 18 through Icon Films.