Hot off the heels of the big reveal on Gossip Girl, Penn Badgley stars as the troubled rocker Jeff Buckley in the biopic of his rise to fame. Focusing on his involvement in the 1991 tribute concert held for his estranged father, Daniel Algrant's Greetings From Tim Buckley depicts the troubled relationship between the two, and the struggles of the younger to break free of the shackles of his infamous lothario father.
The film doesn't sugar coat the fact that Jeff was abandoned by his father, but it also shows a young Tim Buckley (played tenderly and innocently by new-comer Ben Rosenfield) struggling to balance the limelight and the harsh light of day. Tim was an influential musician, people are constantly telling Jeff how much they loved his fathers music and how alike they look, but he also seemed to be a pretentious twat who met his son twice in his whole life.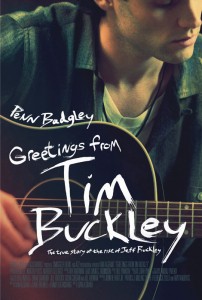 The music of Tim Buckley is the major focus in the film, with flashbacks to Tim in his hey-day, and rehearsals for the concert happening throughout the film, the connection between the two is profound, and the tension it causes is paramount to the beauty and tragedy of both performers. Badgley handles himself amazingly, performing many of the numbers in the film, including the moving solo at the conclusion of the film. However, supporting roles were underdeveloped and under-used, such as the beautiful and mysterious love interest Allie (Imogen Poots), who helps Jeff a great deal in dealing with his emotions, but whose motivations are never really clear.
While the two performers at the centre of this film are legendary and their lives were both cut tragically short, the film feels pretentious and preaching the destructive rocker life-style a little hard. The performances are great, the music is wonderful, the subject matter is incredibly interesting but not handled with the greatest care, particularly one disturbing scene of Jeff crying alone in his hotel room at the end of the film which feels as if it has randomly been slapped in there for some underwhelming, unreferenced character development.
All in all Greetings From Tim Buckley is an interesting biopic about two interesting figures in musical history and weird connection between the veritable strangers.
Greetings From Tim Buckley is in Australian cinemas from 1 August through Icon Films.