Set in the distant future and exploring anxieties about pollution and overpopulation comes Elysium, written and directed by Neill Blomkamp. Like Blomkamp's previous film, District 9, Elysium is a visual, action-packed spectacle, filled with breathtaking imagery and riveting action scenes. It is also, like District 9, a science-fiction film invested in reflecting and denouncing existing social inequalities. In this case, Blomkamp has focussed on the increasing rift between the rich and the poor, again employing the advancement of technology and the waning boundary between man and machine to explore entrenched and political sensitive social issues.
The year is 2154. Uncontrolled environmental degradation and overpopulation on Earth have caused living conditions to deteriorate drastically. Two economic classes have emerged. The world's richest have left Earth and ensconced themselves on Elysium, an orbiting wheel where they enjoy drinking champagne, large estates and access to technology which instantly cures any medical anomaly. On Earth, hospitals are crowded, poverty is rife and there is a pervasive claustrophobia that permeates daily life. Secretary of Defense Jessica Delacourt (Jodie Foster) ruthlessly enforces this segregation by hiring Kruger (Sharlto Copley), a South African mercenary, to shoot down any foreign ships in Elysium airspace.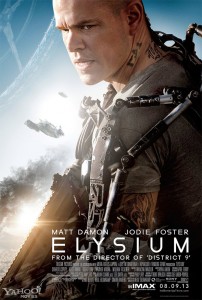 Max Da Costa (Matt Damon) has dreamed of going to Elysium since childhood, when he met and befriended Frey Santiago (Alice Braga). Now adults, Max is on working in a factory and is on parole, whilst Frey is a nurse. When Max is exposed to a lethal dose of radiation, he resorts to desperate measures and strikes a deal with people smuggler Spider (Wagner Moura) to transport him to a cure on Elysium. However, he unwittingly becomes involved in a larger, clandestine political plot, one that could threaten to destabilize the existing social structure.
Elysium's strengths are its spectacular imagery and thrilling action sequences. Blomkamp has imagined and brought to life two stunningly realised worlds. The crowded streets of Los Angeles are overrun by slums and a heavy, pulsating score perfectly complements the scenes of rampant urban sprawl. Meanwhile, scenes of Elysium's lush lawns and wealthy mansions are imbued with an aura of sterilization, of an enforced purity. And when the boundary between these two worlds collapses the action is brutal, bloody and vicious.
However, whilst Elysium provides plenty of action-packed thrills and an immersive visual experience, the impact of its political and social commentary is lacking. The complexities and nuances of the issues it raises are somehow lost and subsumed, and they are never given the chance to really develop and unfold, either in plot or through the characters, who come across as limited in their outlooks. Elysium is an enjoyable movie-going experience, but it falls short of achieving the political and intellectual heft necessary to elevate it beyond the heights, and depth, achieved by District 9.
Elysium is in Australian cinemas from 15 August through Sony Pictures.