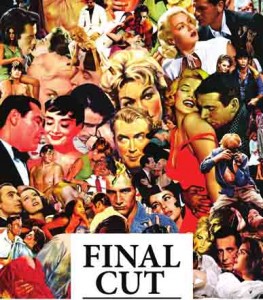 Responding to the recent economic disaster in his home country of Hungary and its effects on his film industry, director György Pálfi has made the ultimate love story, about the ultimate man meeting the ultimate woman, compiled of hundreds of clips from cinemas finest. The ultimate man is built like Brad Pitt in Fight Club, suave like Humphrey Bogart in Casablanca, boyish like Leonardo Di Caprio in Titanic, funny like Cary Grant in The Philadelphia Story and tall like Jean-Paul Belmondo in anything.
The ultimate woman is built innocent like Marilyn Monroe in Some Like it Hot, graceful like Audrey Hepburn in Roman Holiday, yar like Katharine Hepburn in The Philadelphia Story, audacious like Julia Roberts in Pretty Woman, feiry like Salma Hayek in Frida, enchanting like Kim Novak in Vertigo and naked like Sharon Stone in anything.
They bump into each other, he catches a glimpse of her on the street, they go out, they fall in love, they make love, they marry. He goes off to work and becomes distant, staying late to work and letting her day of cleaning the house and making a lovely meal go to waste. Suddenly people at work plant ideas in his head; what does she do all day when you're not there? Where was she going when Jack from accounting saw her in town on Tuesday, is she seeing another man?
Classic Hollywood gambits ensue, will the guy get the girl after losing her, will he come back from the war, will there love shine eternal?
Highlighting the truly recycled nature of popular culture to the extreme, Final Cut: Ladies and Gentlemen, is one of those films that has to be seen to be truly appreciated. Funny, heartbreaking and at times troubling to the human psyche, Final Cut is a breath of fresh air, showing us a refreshing new take on the modern love story without showing us anything new at all. Film buffs will love this, but if you don't get out to the picture show very often, many of the jokes will probably go over your head.
Final Cut: Ladies and Gentlemen played at the 2013 Melbourne International Film Festival.