Also released as Something In The Air, but coming to Australia with the translation of its original French title Aprés Mai, After May is the semi-autobiographical new film from Olivier Assayas, one of the most celebrated film makers currently working in his native France. The late 60's set storyline follows a couple of years in the life of a young radical group, focusing mainly Gilles (Clément Métayer) – clearly the character substitute for the writer/director,  as they finish high school and embark on their new lives.
Set during a cultural revolution, Assayas puts a particular focus on questions regarding the ideology associated with revolution itself. The young protagonist Gilles participates in all kinds of rebellious behavior from as relatively innocent as circulating counter-cultural zines, to a firebombing attack on the guards at his high school which leaves one of them in a coma.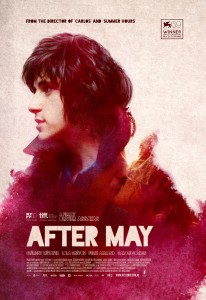 It's hard to believe that these characters are still only in high school – indeed, this is perhaps the most thoughtful and mature depiction of teenagers ever depicted on film – but Assayas takes their plight seriously, even if it's a strain for the audience to. This isn't helped though by his refusal to establish exactly what it is they are rebelling against, so it becomes much harder for the audience to sympathize with their actions, or see them as two-dimensional. Perhaps though, Assayas is making a larger point about non-conformity and the need to rebel in young people and the subject is irrelevant, but surely such points shouldn't be made at the expense of the audience's experience of watching the film.
Assayas's screenplay and direction are beautifully evocative of the period down to the smallest detail – a demonstration being broken up by particularly brutal police at the beginning of the film is particularly gripping, and the overall arc of Gilles's story and his relationships defies traditional narrative and is instead enriched by the simultaneous beauty and tragedy of real life. It is a shame, that at least in the beginning, Assayas focusses more on crafting this sense of period than focusing more on establishing Gilles and his sensibility. Performances are uniformly good by the young cast, and the casting itself offers some interesting and brave decisions, in as much as the supporting cast don't necessarily look like traditional movie actors, which only adds to the sense of period and flavor of the piece.
Despite some shortcomings, After May is still a well-made, at times beautiful film, that's never less than engaging in its story.
After May is in Australian cinemas from 21 November through Palace Films.