As the dedicated group of social workers that work there explain to newbie Nate (Rami Malek) on his first day of work, the Short Term 12 of the film's title refers to a foster care facility that caters to troubled youths with nowhere to go until they turn 18, declared independent of the state and subsequently on their own. With Nate, and one of the kids that comes to the home at the same time – a deeply disturbed teenage girl (Kaityln Dever) –  the audience is wholly transported and immersed  into this incredibly cultivated  double world of the troubled kids and caring adults created by the film's writer and director, Destin Cretton. The group of social workers is led by the intelligent, caring and fiercely independent Grace (Brie Larson), who comes from same shattered lives as her wards and finds out she's pregnant with co-worker and boyfriend Mason's (John Gallagher Jr.) baby. As she decides what she's going to do, her life is thrust into a whirlwind as she desperately tries to cling on to her troubled relationship with Mason and look after kids that she cares about.
Written and directed by relative newcomer Destin Cretton (as well as adapted from his short film of the same title), Short Term 12 is an incredible film, not only one of the best of the year, but the best independent drama to come out of America in a long, long time. While Cretton's direction is assured; with a relatively basic (but perfect), mostly hand-held camera which impeccably complements the narrative of the film; it's his screenplay which is the real star. His dialogue is not only moving and realistic; it's also smart and witty without drawing attention to itself, something unfortunately uncommon since the heyday of Hollywood studio films when it was just expected. He also crafts and develops characters that – combined with the performances of the actors – we come to care so much about.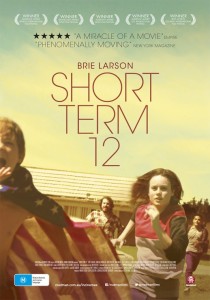 In crafting his story he also doesn't over reach and finds the right balance to keep the proceedings real and give an incredible sense of intimacy, despite the scope of following several characters, both the social workers and the kids, on their individual and inevitably intertwined journeys. These are broken people just doing the best they can to live their lives, and Cretton never forgets this.
A lot of the buzz around the film has centered on the leading performance of Brie Larson who some are predicting an Oscar nomination for. In fairness, the rest of the cast are wonderful, all giving strong and naturalistic performances, but Larson is incredible. She is raw, unreserved but also so incredibly charismatic that she doesn't only deserve the nomination: she should get the statue itself.
Moving, and sensationally made, Short Term 12 is not only both a remarkable work from an incredible new director and the launching pad of one of the greatest actresses of this generation, but also a brilliant film in its own right.
Short Term 12 is in Australian cinemas from Dec 26 through Madman Films.