Films which are entirely about a guy on a boat lost at sea don't initially sound like compelling viewing. Especially when the film only has one character, barely any dialogue and makes Cast Away look like it has an ensemble cast – at least in that film there was an island and and Tom Hanks forming an emotional attachment to a soccer ball named Wilson. But J. C. Chandor, having focussed on Wall Street brokers on the eve of the global financial crisis in his first film Margin Call, has decided to try something completely different in writing and directing All is Lost, starring Robert Redford as a man desperately lost at sea. Despite the seemingly uninteresting premise, the film is for the most part quietly compelling viewing, and is a testament to Chandor's assured and understated direction and Redford's restrained but commanding presence.
The film opens with Redford's character, who remains nameless throughout, stranded on his yacht somewhere in the middle of the ocean. A shipping container, also adrift in the ocean, has smashed into his yacht, creating a gaping whole its side which he goes about trying to fix. We soon learn that he is in the middle of the Indian Ocean, drifting north and hoping to catch the attention of a ship as he crosses an international shipping route. From the start it's a battle against the elements, dwindling supplies and the constant threat of being consumed by hopelessness.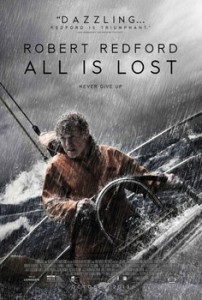 Redford delivers a quietly determined performance which silently commands our attention. His eyes effectively convey a weary tenacity, interrupted by sudden inklings of hope. He invests even the most mundane of tasks with an air of silent, precarious resolve, as if every action is critical for maintaining his sanity in the face of extremely dire circumstances. His muted resilience subsequently renders his dejected outbursts all the more devastating, moments where his emotional suppression can't be contained.
No doubt the film's intentional ambiguity and hermetic focus will invite various interpretations suggesting that the film is an extended metaphor for the human condition or a pressing social matter. The fact that we also don't learn anything about the protagonist's past or relationships also encourages him to be seen as a symbol. Nevertheless, it is a quietly moving experience to see the courage displayed by this one man on his desperate plight. Compelling for the most part, All is Lost is probably not for everyone, and even perhaps demands that willing viewers be in a relatively pensive, receptive mood in order to appreciate it. Nevertheless, the film is an interesting idea which features an undeniably accomplished performance and solid direction.
All is Lost is in Australian cinemas from 14 November through Universal Pictures.