In Any Day Now the fight for equal rights for gay couples is given the spotlight. Directed by Travis Fine and with a screenplay by Fine and George Arthur Bloom, the film is a moving look at one couple's fight for adoption against a homophobic and discriminatory legal system. And despite being based on a true story that happened over 30 years ago the film's focus on bigoted prejudice and social issues remain relevant and resonant today. The performances and direction are solid throughout, but the screenplay could have allowed more scope beyond the adoption battle, and enabled more opportunity for character development.
Rudy Donatello (Alan Cumming) is a struggling singer in Hollywood in the late 1970s, who scrapes a living as a drag performer in a night club. Whilst performing one night he strikes a connection, and eventually a relationship, with Paul Fleiger (Garret Dillahunt), a closeted district attorney. Rudy also lives next to a single mother and her 14-year-old son Marco (Isaac Leyva) who has Down syndrome. He wakes up one morning to find that Marco has been left alone because his mother has been arrested. After forming an immediate rapport with Marco he fights with Paul for his adoption. They subsequently undertake a lengthy and protracted battle against a legal system marked by a pervasive and blatant homophobia.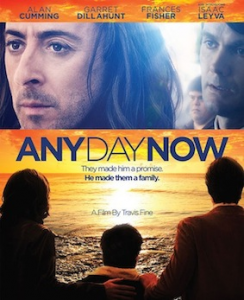 The performances are strong throughout, especially the duet which comprises the film's emotional core. Cumming is charming and engaging as Rudy, who convincingly alternates between a fiery indignation and a barely concealed vulnerability that simmers beneath his confident front. But it is with Leyva that Cumming brings his most powerful work in the film. Levya brings a natural ease to his endearing Marco, and Cumming is movingly gentle and fiercely passionate. However, these performances are constrained by a screenplay that could have spent more time fleshing out the main characters, especially Paul. He undertakes his relationship with Rudy and the ensuing adoption battle at great risk to his career, but there could have been more time spent on exploring his inner conflicts.
Overall, Any Day Now is a stirring film touches on the frustrating realities of a legal system that continues to lag behind a contemporary social mood gathering support for increased equality. It is touching, poignant and thought-provoking, and ultimately it calls for understanding as opposed to blind, crippling narrow-mindedness.
Any Day Now is in Australian cinemas from 10 April through Pinnacle Films.