When SNL recently made a fake trailer for a fake new Wes Anderson film called The Midnight Coterie of Sinister Intruders and quoted The New York Times as saying "you had me at Wes Anderson", they really touched on a nerve at the heart of every Anderson fan in the world. Let's face it, if you love the guy, you'll see anything he does, because he never disappoints.
The Grand Budapest Hotel is the life story Zero Moustafa (Tony Revolori) the hotel lobby boy who became the protégé and most trusted confidant of legendary hotel concierge Gustave H (Ralph Fiennes). In the early 40s when Zero is first taken under Gustave's wing after fleeing from a war in his own country, a wealthy elderly lady (Tilda Swinton) who frequents the Grand Budapest, dies in mysterious circumstances and leaves a small fortune to Gustave (her secret lover). Gustave is some what of a lothario when is comes to the older, wealthier, female inhabitants of the hotel and the late Madame D's family protest the will with all their might.
What ensues is a typically Wes Anderson misadventure filled with quirky moments, irreverent humour and beautiful cinematography. However, unlike a Wes Anderson, thanks to the sinister D family "errand boy" Jopling (Willem Dafoe) the film racks up quite the body count. "Yes, but the film is set in war time", I hear you saying, but that accounts little for the direct action of the film. Don't fret, Anderson has not crossed to the dark side, the deaths are shocking surely, but handled with typical Anderson whimsy, quirk and humour.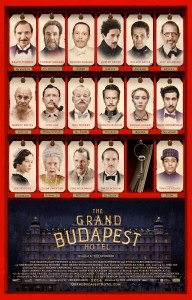 Fiennes gives a masterful performance as the self righteous, well-to-do gentleman of refined tastes and particular habits, showing Zero a world of honour, dignity and class in the face of adversity. Not to be outdone, the supporting cast is a who's who of hollywood and Wes Anderson alumni including Adrien Brody as the son who will stop at nothing to rebuke the Will that leaves his mothers fortunes to Gustave, Jeff Goldblum as the letter-of-the-law lawyer representing Gustave in his trials, the Hotel and the family D, Harvey Keitel as a happy go lucky (if  a little scary in a convict sort of way) prison break mastermind Ludwig, Bill Murray as one element of a secret concierge society, Edward Norton as the war time cop struggling to uphold the law in uncertain times, Owen Wilson briefly as a war time concierge at the hotel (for what would a Wes Anderson film be without a Wilson Brother), the list goes on, and when you just thought you remembered everyone who was supposed to be in this film, another face will pop on screen.
The film deals with some strangely political topics Anderson hasn't dealt with before, but he does it with such panache and style, one can't help but be brimming with happiness and joy at the end of what is really quite a sad and moving film.
A must for the school holidays, for Anderson fans and soon-to-be Anderson fans alike.
The Grand Budapest Hotel is in Australian cinemas from 10 April through 20th Century Fox.