Striding on stage at the National Theatre in Sam Mendes's new staging of Shakespeare's King Lear, Simon Russell Beale's Lear appears at first shorter than the playwright might have imagined. Then again, when you consider that many dictators over the centuries have been short, you can see where director Sam Mendes is coming from in his casting. Beale is recognised as one of the greatest stage actors of his generation, and has been working with Mendes for over 20 years, so it is hardly surprising that these two have managed to carve out a captivating role fitting to Beale's talents.
It begins as an ageing and ailing monarch decides to split his assets between his daughters. He isn't so much abdicating from his title, but retiring from some of his ruling duties. Back-story is not discussed, as Lear  – here depicted with shaved head as a something of a second World War-era military dictator – promises generous dowries to each daughter on one condition: that they tell him how much they love him. The two eldest, the tight-lipped Goneril (Kate Fleetwood) and flirtatious Regan (Anna Maxwell Martin), suck up to their erratic father and duly receive their dowries. However his youngest and most beloved, Cordelia (Olivia Vinall), honestly professes that she has not the words to describe her love, and so remains silent. Lear is overcome with rage and disinherits her, banishing her to France. Thus begins his descent into madness and the consequent dividing of a country.
This synopsis falls inevitably short of describing a narrative that feeds off a number of interlocking themes: honesty versus deception, pride and shame, loss and redemption, ambition and duty, ageing and madness, and family. Mendes' swift direction plumbs the story's grim depths by interpreting a much more violent course of events than what is spelt out in the play, bringing the story to an HBO crowd's sensitivity. However, this may be not be to everyone's tastes. The final scene is perhaps overly crowded. The fool's (Adrian Scarborough) fate in particular will be a contentious point as he is murdered on stage, while the trials of the Earl of Gloucester (Stephen Boxer) are horrific, echoing an even more modern setting. Incidently, Baxter and Scarborough's performances are two of the strongest and most poignant in the play.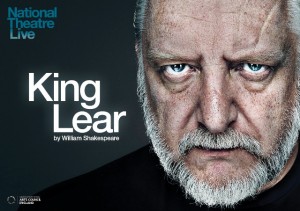 While Beale's depiction is duly an unattractive one, his gradual loss of mind challenges the audience to consider sympathy as he discovers his humanity in the absence of power. At only 53, perhaps Beale is a bit too young for the role. Yet his insistent performance, and his short stature, are fitting and equally captivating once power is denied him. Even given our first impression of Lear — the proud and cruel king who governs through violence and is feared by his subjects — when Lear pleads to his fool, 'O, let me not be mad, not mad,' the pity of this realisation is surprising. The effect is likewise in a moving final act, in which Lear reconnects with a tortured Gloucester and his exiled daughter. Though his violent streak is never far away, in time, we can recognise the king in two guises: the one whose cruelty you can see in his two manipulative elder daughters, both brilliantly played in contrast by Martin and Fleetwood; and the one whose decency you can see in his defiant younger daughter, portrayed in an impassioned performance from Vinall.
This adaptation will split audiences, but Mendes' take is fresh and thought-provoking. And if there is anything that we don't need more of, it's run-of-the-mill recitations of Shakespeare.
National Theatre Live's King Lear will be on released in selected cinemas from June 21 through Sharmill Films.