The Statue of Liberty has long been a beacon of hope for those coming to America seeking new beginnings. It is a gateway to the 'land of opportunity', where the past can be left behind and the future embraced with unwavering optimism. As the opening image to The Immigrant, directed James Gray and with a screenplay by Gray and Ric Menello, these sentiments are immediately invoked, but are soon given a sobering twist. Focussing on a Polish woman's arrival in New York in 1921 (portrayed by the mesmerizing Marion Cotillard) the film depicts her increasingly desperate efforts make a viable life for herself and her sister, and the increasingly complex relationships she develops with two vastly different men. More broadly, the film touches on the despair and alienation that can characterize the immigrant experience.
When Ewa Cybulska (Cotillard) arrives at Ellis Island with her sister she is buoyantly hopeful of the life that awaits them on the other side, where her uncle and aunt are. However, when her sister is diagnosed with tuberculosis and quarantined, and her uncle is not there to pick them up, she seeks help from the manipulative and unstable Bruno Weiss (Joaquin Phoenix), whose connections and bribes allow him to take her to his theatre to work as a dancer, and later, a prostitute. He becomes increasingly possessive over her, complicating her chance meeting and friendship with Emil (Jeremy Renner), Bruno's charismatic magician cousin and a long-standing rival. Their tense, entwined relationship subsequently culminates in an act of desperate, inadvertent violence.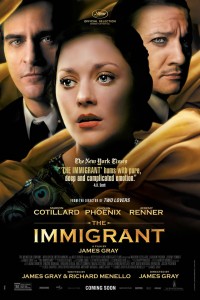 The film is nostalgically stylish, featuring lush, beautiful cinematography in dark, moody shades. This visual sheen complements the screenplay, whose story is tinged with a wretched but persistent hope. To this end, Cotillard's performance is the heart and soul of the film. Aside from the technical prowess in speaking Polish (and English with a Polish accent), she invokes a potent combination of vulnerability, self-loathing and strength, exhaustively aware of her character's powerlessness, but also her stubborn fortitude. Importantly, Cotillard also instils her performance with an enigmatic distance, one which prevents us from ever fully grasping her inner turmoil.
The supporting performances are generally solid, with Phoenix again demonstrating his visceral range and Renner casually charming. However, the performances, when taken together, somehow lack cohesion, preventing the film from developing a consistently tense mood. The score, too, at times detracts from the tension, perhaps being a little too 'present' when restraint and subtlety could have been more effective in drawing the audience in. In the end though, The Immigrant rests on Cotillard, who grounds the film with an intense central performance that etches in vivid brushstrokes the bewildering and alienating experience of a woman trying to make a new home in a foreign land.
The Immigrant is in Australian cinemas from 11 September through Roadshow Entertainment.