Following the success of his debut feature Another Earth, which was a rave at the 2011 Sundance Film Festival, writer/director Mike Cahill's sophomore effort I Origins is another science fiction drama that explores the concept of true love within the larger framework of reincarnation, and reunites him with the star of that film, Brit Marling.
Indie mainstay Michael Pitt stars as Ian, a grad student exploring evolution through the human eye who meets a mysterious woman, Sofi (Astrid Berges-Frisbey), at a Halloween costume party. In a moment of hesitation she leaves him without any clues as to who she is except a photo of her eye. The universe seems to want him to find her though, and through a series of mystic coincidences, he is eventually able to track her down and love blossoms between the two despite his predilection for science and reasoning, and hers for faith and chance. In what is ostensibly a two-act structure, the first half of the film concerns itself with their developing relationship until a stroke of misfortune changes their lives and sends the movie into an entirely different direction.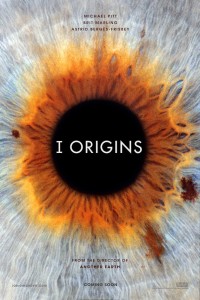 It is clear from watching the film that Mike Cahill is an extremely talented and original director who will one day go on to make truly great films. Unfortunately, while in its best moments I Origins is incredible and beautiful filmmaking, it doesn't cohere and is just as often heavy handed and silly in its attempts at mystery and edginess – particularly in the opening Halloween sequence.
Thematically, the film's debate of science vs faith is fertile ground and, as the writer, Cahill deals with it intelligently and makes some interesting observations, especially in the films second half. However, again he his hamstrung by reaching too far and is forced into an ending which (naturally given the subject matter) can't provide all the answers, despite a half-asked attempt to do so.
Although it's marred by moments of indie pretentiousness and an ending which fails to rectify the questions it asks, I Origins is a compelling and original film, which is more than so many others of its ilk can merit. It is at its heart a really good film, but all the more disappointing because it isn't the great one it sets out to be.
I Origins is in Australian cinemas from 18 September through 20th Century Fox.