Screening as part of the Festival of German Films, Beloved Sisters (2014) is a historical romance based on the lives of sisters Charlotte and Caroline von Lengefeld and poet and philosopher Friedrich Schiller. Directed by Dominik Graf, the film chronicles the love triangle which develops between the sisters and their poet.
The film opens in 1780's Germany with Charlotte (Henriette Confurius) travelling to Weimar where she is to live with her aunt and learn the ways of society life. Charlotte is born to an aristocratic family who has fallen on hard times. Her father has passed away and Charlotte's sister Caroline (Hannah Herzsprung) has been married to a wealthy man to secure her own families future.
Charlotte is somewhat impetuous, and while she is attractive to potential suitors, her aunt worries that she does not 'appreciate her value'. When the young poet Friedrich (Florian Stetter) makes advances towards Charlotte, Caroline encourages her to pursue love over a good financial match and orchestrates a courtship between the two at her countryside home. Perhaps because her own marriage is loveless, Caroline enjoys the summer romance as much as Charlotte and Friedrich, and the three become engrossed in each other. Friedrich falls for both sisters, and they pledge a life together despite the many obstacles in their paths.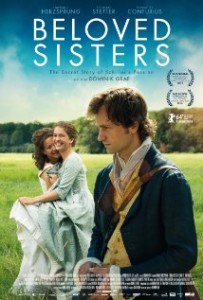 Once the summer is over both Charlotte and Friedrich have returned to Weimar, they secretly become engaged. When Friedrich's career eventually takes off, they are able to marry with some blessings from Charlotte's mother, although only after Charlotte has dispatched with Friedrich's former mistress and benefactor. After their marriage Caroline visits the couple in order to resume their shared love, however when she discovers that Charlotte has forsaken the marital bed for Caroline's sake she leaves and has no contact for several years.
In the background to this complex love story is the French Revolution, as well the film gives some light to the growing acclaim Friedrich Schiller was beginning to experience. While he is banished by the Duke, he is also the darling of the academic and writerly set, appointed as a professor of history and philosophy because of his refreshing writing style. Historical accuracy regarding the love triangle between Friedrich and the sisters seems debatable, although there is some evidence to suggest its truth.
Beloved Sisters is a perfectly fine film, however what sets it apart is the engaging chemistry between the two sisters Caroline and Charlotte. Their deep bond is the true love story of the film. Indeed, Caroline's second husband comments that the sisters have a connection unto themselves, Friedrich was merely allowed to visit for a time. Actresses Confurius and Herzsprung and so alive with electricity in their performances, it is understandable that the one man is so in love with them both. Were it not for these two performances, the film would be far less captivating.
Beloved Sisters is screening as part of the 2015 Audi Festival of German Films.