Aloha is the latest film offering from writer/ director Cameron Crowe, and while it has all the elements of a good film it just falls short. The soundtrack is good, performances are solid and the location is beautiful and balmy, yet somehow the film doesn't quite come together.
Bradley Cooper is Brian Gilcrest, a former military man turned defence contractor who has just recovered from injuries sustained during a mission. On his last chance after a rather large mess up, Gilcrest is returning to Hawaii to head up a joint venture between the US military and a private contractor. Torn between two volatile bosses – Alec Baldwin as General Dixon and Bill Murray as Carson Welch – Gilcrest is appointed a minder. The minder comes in the form of Allison Ng (Emma Stone), a smart and intense fighter pilot. But returning to Hawaii is more than just an opportunity for career salvation for Gilcrest, he is faced with his former girlfriend Tracey (Rachel McAdams) and her husband Woody (John Krasinski).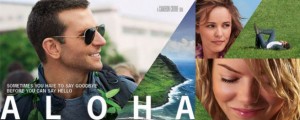 Aloha is about the convergence of the past and the future, as Gilcrest is forced to reconcile himself to his current situation and his own failings. Additionally he must come to terms with his role in sending a weapons satellite into space, the frontier of his own greatest career triumphs and his childhood dreams.
The man in need of personal and professional redemption is not new territory for Cameron Crowe, and this film borders on being Jerry Maguire at the beach. The soundtrack, script and production are all typical of Crowe's polished works, professional and relatively stylish. But Crowe has made much better films than this, in particular Jerry Maguire and Almost Famous.
There are some quite interesting opportunities which are squandered by Aloha. The island setting is gorgeous, and a subplot of the Hawaiian people, their culture and their interest in traditional land ownership is not very well explored. Constant references to island mythology are only superficial, fleshing this out would have added depth. Additionally, the small roles afforded to Baldwin and Murray seem like a waste of great resources.
Despite the flaws, Aloha is watchable. Emma Stone is rapidly becoming a personal favourite (especially after Birdman), in part because of the evident joy she takes in her work. She is quick and smart as Captain Ng, possibly the most likeable character in the film. The soundtrack is great, Hawaii gets to shine a little here with the beautiful island sounds. The film is fine, but it will be quickly forgotten. Hopefully Crowe's next feature will be a return to form, as it is certain he can deliver something more superior.
Aloha is in Australian cinemas from 4 June through 20th Century Fox.