From Denmark comes director Mikkel Norgaard's film The Absent One, the second instalment in the Department Q series based on the novels by Jussi Adler-Olsen. Firmly entrenched in the crime-thriller genre, it is not particularly innovative in style or in subject matter, but nevertheless it is still thoroughly entertaining. The screenplay by Nikolaj Arcel and Rasmus Heisterberg is fast-paced and crisply written, and the performances are uniformly strong. Additionally, the film relies on a parallel plot revealed through flashbacks that is seamlessly intertwined with the main storyline and helps mount the tension throughout. The Absent One is a solid effort, one that performs its genre conventions and elements with assured confidence even though it never really challenges them.
Carl Morck (Nikolaj Lie Kaas) heads Department Q, which focusses on cold cases. His department has not solved a case in a while, and the pile of unsolved murders is beginning to overwhelm them. However, when he is confronted by a former police officer who implores him to re-open a 20-year-old case involving the brutal murder of his twin son and daughter, he is drawn further and further into an investigation of business tycoon Ditlev Pram (Pilou Asbaek) and homeless Kimmie Lassen (Danica Curcic), and the relationship they formed while at a prestigious boarding school during their youth. Their relationship was characterised by a sinister and sadistic streak, and the challenge for Morck is to find Kimmie in time so that he can uncover the truth about the murders.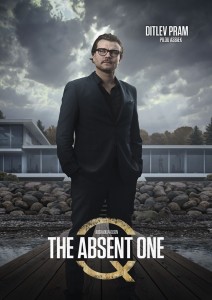 The performances are solid, but the most compelling are those from Kaas and Curcic. Their characters are both are psychologically fraught and unwilling to deal with their issues head-on, but each channels their need to escape in different ways. Kaas' Morck is frenetic, uneasy in his own skin, who throws himself into his work to avoid too much reflection, whilst Curcic's Lassen runs away from her past by delving deeper and deeper into her own mind until she becomes practically unhinged from reality. They are the film's emotional core, and provide its most intriguing psychological portraits .
Structurally, the film is effective because it is essentially two plot lines in one – Morck's meandering criminal investigation parelleled with the gradual unfolding of details about how the murders actually happened. It is this ongoing back-and-forth between plot lines that sustains and mounts the suspense throughout, and smooth editing ensures that this split structure is not disorientating or confusing to follow. And even though the film relies comfortably on standard crime thriller conventions, it has enough conviction to make it compelling.
The Absent One is showing at the 2015 Scandinavian Film Festival.