Nancy Meyers (It's Complicated, Something's Gotta Give) is an admirable filmmaker, even if you don't particularly like her films. She champions an older demographic in an industry riddled with youths. And while Robert De Niro isn't exactly starved for roles, it's the character he plays in The Intern and the opportunities available to him later in life that are worth exploring, and it's refreshing to have a more mature voice. It's a pity then that the film is a bit of a flop.
Ben Whittaker (De Niro) is a 70-year-old widower looking for a way to keep himself occupied in his many years of downtime to come. He's lived a fruitful life, but there is a gap in his life, which drives him to apply for a senior intern program at a rapidly growing online fashion start-up. His boss-to-be: Jules Ostin (Anne Hathaway). Jules is well-liked, but she is also a fiercely independent CEO and all the advice coming her way indicates that she needs help in harnessing the nine-month-old company's ballooning value. It's handy then that a good guy like Ben, an old company man, only wants to help.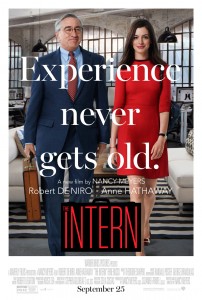 Yes, you can see where this is going: old guy becomes friends with some hip young'uns and hilarity ensues, all the while teaching them some important lessons about life. It's predictable but it has a good heart.
If you've been an intern, you'll know that the world Meyers creates around Ben is something of a fantasy land: where Jules rides a bike around her converted warehouse office disregarding all OHS standards; where the sun is always shining; and where the 'company masseuse' casually wanders the office giving erections to new employees who seem a bit tense. Thankfully, it stops short of being an ad for a search engine (I'm looking at you, The Internship).
It's no surprise that Robert De Niro holds this film together from go to whoa. His intergenerational escapades with the other interns are quite fun, and unlike all the other clueless youths here, he's believable. Moreover, the sentiment on seniors in the workforce is worthwhile: they have a wealth of skills and experience that don't garner the support they should, which is true.
However, in trying to tie two very different audiences together with De Niro and Hathaway, the end result is a film that doesn't quite appeal to a younger demographic – and this 23-year-old reviewer will venture that this in turn detracts from its appeal to a more senior audience. The story of Jules is a confused muddle of assorted stresses eventually showered with tears. And with her husband so weakly written that his participation only serves to ruin any chance of a decent resolution, there are more than a few who will leave this bemused and disappointed.
The Intern is in cinemas from 1st October through Roadshow Films.