The latest film from world cinema auteur Hsiao-Hsien Hou will not be to everyone's tastes. Those expecting a period martial arts extravaganza in the spirit of Hero or Crouching Tiger, Hidden Dragon which is implied in the film's plot (and indeed some of its advertising) will be quite disappointed. The film is rather an intimately Shakespearian narrative of warring families, secret pasts and forbidden love.
Set during the Tang Dynasty in 9th Century China, the titular character, Nie Yinniang (Shu Qi) is given the task of killing the governor of another province, Tian Ji'an (Chang Chen) by her master Jiaxin (Fang-Yi Sheu) who has raised her to be a merciless assassin. Given her history with Tian Ji'an, which is revealed slowly over the course of the story, Nie Yinniang has misgivings and isn't prepared to complete her assignment, particularly with the presence of the governor's wife and young son always in his immediate vicinity. Instead, she haunts the family like a ghost from the past while weeding out other corruption in the area. Reminiscent of a Terrence Malick film (although Hou's style is all his own) in narrative and visual execution, the plot is a mere bridge on which his all-important characters dance a dangerous game of death that cannot end well for any of them.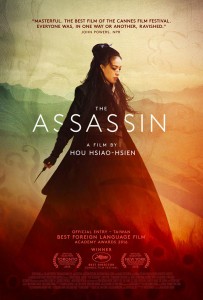 From its opening scenes, shot in high contrast black and white in the Academy 4:3 ratio to its desaturated bright hues in the film proper, The Assassin is sumptuously beautiful. Huo (who won the Best Director prize at Cannes for his work here) and cinematographer Ping Bin Lee hold their shots and let the audience soak in their stunningly composed images, often with very little going on in the frame. Their intention instead seems to be to impart a sense of nature and grace, and it makes for soothing and meditative viewing, which although destined to bore some parts of the audience, will provide a deeply enriching one for others.
Highlighted by the gorgeous cinematography are the other design elements. Huo and Lee make spectacular use of natural locations, but the set design and costume design by Wen-Ying Huang (doing the second under the name 'Hwarng Wern-Ying') are equally delightful and the sense of period is richly maintained throughout.
Shu Qi, who western audiences will recall from the first Transporter film and who is a prolific screen star in Asia, is never less than entirely engrossing as the eponymous protagonist in the film. In a relatively speechless role she portrays the epic sense of tragedy that has unfolded for her character and the moral tightrope she walks throughout. It is an incredible performance.
A beautiful film and entirely engrossing if you can settle into it, The Assassin is one of the year's best films.
The Assassin is in cinemas from 5th November through Vendetta Films.