Triple 9 is a complicated, character driven heist film filled with betrayal, enduring loyalties, bad cops, good cops, double crossings, criminals and lots of guns. And that is a convoluted way of describing a convoluted crime thriller. With an enormous ensemble of highly talented actors, it was always going to be a struggle to trim the fat on this one, and the film tends to drag in places.
As to the story, well if you come out of this one remembering everyone's names – let alone motivations – you deserve congratulations. Coming out from an exciting bank heist sequence we are introduced to a gang of five highly shrewd crooks, among them a couple of cops. Chiwetel Ejiofor, as the unofficial go-between for the group, communicates their success to Israeli/Russian crime syndicate head Kate Winslet, who is almost unrecognisable. Using her position as the sister of his child's mother, she delays payment and blackmails him into one last near impossible job.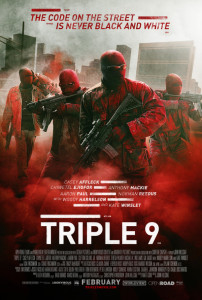 After relaying their predicament to his associates, things begin to fray at the seams with each member's personal modus operandi blurring the end game. With many carrots dangling for different members, it's decided that the best way to pull this new heist off is to assassinate a cop, triggering a code 999. While this all goes down, super cop Woody Harrelson has his rookie nephew Casey Affleck partner with one of the conspirators, corrupt cop Anthony Mackie. Whilst shepherding Affleck, Mackie must do his best to contend with Aaron Paul, bereaved of his brother, Norman Reedus, who were both part of the syndicate.
So with a golden chess set of cast members and pieces placed on the board to allow for pulsating tension, intricate relationships and powerful themes, why doesn't this hit the mark? It seems as though director John Hillcoat has turned this one up to 11. It's all rather inordinate – the double crosses, personal vendettas, how every character seems to have a strained relationship with one another. There's simply no reprieve. With barely any time to process how X is connected to Y we have to be transported to location Z for a new vital bit of information. It's a good thing the cast is so talented otherwise a large portion of the film was surely in danger of becoming tiresome.
So with the cast the main draw card who lives up to the potential? Chiwetel Ejiofor is phenomenal as always. Kate Winslet is a great chameleon as the matriarchal bad 'guy'. Casey Affleck, who is highly selective when it comes to films, is uncharacteristically uncharismatic. The big star of this is Aaron Paul who lives up to his Breaking Bad potential, though has precious little screen time.
Alongside Justin Kurzel, John Hillcoat is Australia's most exciting promising director. His previous films (The Road, Lawless and highly commendable The Proposition) boast simple powerful themes. This latest thriller is worlds away from his other works and, hampered by a promising yet labyrinthine script, manages to fall short of his previous efforts.
Triple 9 is in cinemas from 3rd March through Roadshow Films.