Marguerite is a gorgeous film, which meditates on the connection between artistry and madness, and the values of talent (or lack thereof). Marguerite is beautifully filmed and edited, with exquisite costumes and glorious settings.  Directed by Xavier Giannoli, Marguerite is based loosely on a true story.
It is 1920s France, and Baroness Marguerite Dumont (Catherine Frot) and her husband Georges (André Marcon) have opened their home and are hosting a benefit recital for war orphans.  As primary benefactor for the charity group, Marguerite is due to sing a particularly difficult Mozart piece as the headline act.  Her home is packed with guests, including a young journalist named Lucien Beaumont (Sylvain Dieuaide) and his anarchist friend Kyrill Von Priest (Aubert Fenoy).  Her husband is absent; it seems he has feigned an automobile breakdown.  A young singer, Hazel (Christa Théret), arrives and performs a duet, hired by Marguerite.  The butler Madelbos (Denis Mpunga) fusses about in preparation for Marguerite's performance.  Everything is exquisite; peacocks roam the grounds, crystal glasses sparkle, guests in swathes of silk and tuxedos are abundant.  And then Marguerite sings.
Tone deaf and surrounded by sycophants, Marguerite is a terrible singer. In twenty years of marriage, Georges has never seen fit to tell her, and describes her to his mistress as a freak.  The charity group relies too heavily on her generosity to be truthful with Marguerite.  The apparently loyal butler Madelbos keeps Marguerite in blissful ignorance to her lack of talent, removing bad reviews from the newspaper and filling her home with flowers from 'adoring fans'.  Clearly this has been going on for many years, as Madelbos photographs Marguerite in various theatrical costumes and poses, with other adoring staff as extras.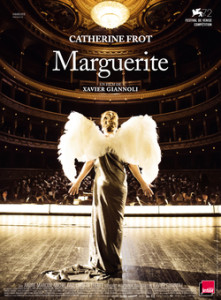 After this particular charity recital, however, Lucien writes a very favourable review, with sketches from Kyrill to accompany. Marguerite is thrilled with the complimentary piece, and goes to thank the two young men in person.  With her affections secured, the boys ask her to perform in Kyrill's anarchist review.  Much to her husband's embarrassment, Marguerite is jailed over night for the controversial performance.  But her jaunt on the stage inspires her anew, and Marguerite decides to put on a solo concert.  Lucien enlists the assistance of failing opera singer Atos Pezzini (Michel Fau) as singing coach, Pezzini's own career so deteriorated that he cannot afford to say no to the Baroness.  Marguerite ostensibly has all the resources she needs at her disposal, with the exception of a decent singing voice.
Marguerite is a glorious film, visually rich and sumptuous, comprised of a beautiful compilation of furniture, set pieces and costumes. Broken into chapters, the story is at once deeply dark and funny in its telling, although perhaps slightly too long.  Performances are impeccable, and while Marguerite is talentless and a source of great amusement, she is never a laughing stock.  Catherine Frot's performance is nuanced and sublime, endearing us to Marguerite rather than drawing out pity or mockery.  Supporting cast are equally impressive, with a particularly strong performance from Denis Mpunga as Madelbos.  He is seemingly civilised, yet there are some dark undertones to be revealed.
Marguerite is used and ridiculed by those around her, but what they fail to see is her intense and uncompromised generosity, and the joy with which she lives. Her beauty and passion are mostly unappreciated.  As a woman so completely dedicated to music, an ultimate connoisseur, she is an artist in so many ways.  Except for one; she doesn't have any discernible talent. And yet, perhaps it is the audience with the issue, rather than the performer.
Marguerite is in cinemas from 21st April through Transmission Films.