There's a popular treat in Japan called a dorayaki; it's essentially two pancakes stacked on top of one another and filled with a sweet paste made from Azuki beans. The paste is called 'an' which is where the new film from Japanese director Naomi Kawase gets its name. An is a simple title yet it suits. This makes it a little baffling to see that in some regions the film is being released under a name that appears to be a literal translation from the Japanese kanji, Sweet Red Bean Paste, which we can all agree is a silly title. But no matter. Whether its name is An or Sweet Red Bean Paste, Kawase's film, which opened the Un Certain Regard section of last year's Cannes, is an exquisite piece of Japanese cinema which is as beautiful to look at as it is to ponder.
In a small bakery on the edge of a Japanese city, Sentaro (Masatoshi Nagase) makes dorayaki. It's a simple job which he's fairly good at, but there's a loneliness that hides behind the stoic façade of this baker which stems from mistakes made long ago. One day amid the constant swirl of cherry blossoms enters Touke (Kirin Kiki), an elderly woman with horrifically scarred hands who is looking to find work. She soon proves herself as an exceptional baker with a talent for making 'an'. With time the two become close and wounds from long ago begin to reopen.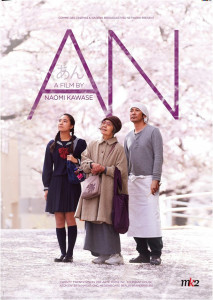 Written and directed by Naomi Kawase, working off a novel by Durian Sukegawa, An is the kind of film that requires a sit down and a think afterwards. There's something quite profound about this beautifully shot, immensely well-acted film which stays with you in the post-theatre ponder. Films that aspire to be 'philosophical' can turn out a few ways, from the sublime (Melancholia) to the nigh-on incomprehensible (The Tree of Life), but it's rare that a film comes along that genuinely seems to possess the virtue of wisdom. This really is a wise piece of cinema, the kind of musing on life and death that seems to hold in its grasp something truly insightful into the human condition.
The recurring site of cherry blossoms comes to mind. The way that they bloom with such an intense beauty only to then scatter and fall, a little bit like the ebb and flow of life. The days of melancholy usually end and are trumped by the times that we see the world around us and feel truly happy to be alive. Shigeki Akiyama's cinematography ensures that cherry blossoms have never looked so beautiful; the way this film has been captured is a truly remarkable accomplishment.
Kirin Kiki is the key to An's success. Her performance as the 76-year-old Touke is beautiful, she's the heart that keeps the film intriguing and makes it so profoundly moving. Masatoshi Nagase with his very restrained yet still affecting role is the perfect ying to Kiki's yang and together they make this film a success.
It's easy to criticise An for being clichéd but this would be to miss the point. The story is not the important thing. The quiet moments of joy that emerge from the stunning cinematography and soundtrack by David Hadjadj are the kind of feeling that only a special kind of film can deliver. An is the best kind of 'feel good' film, one that isn't saccharine sweet but one that truly does provoke a serious and beautiful meditation on life, death and all the stuff in between.
An screens exclusively at Cinema Nova from 28th April through Curious Films.