Talking about his famous character from The Office, Ricky Gervais explains, "I suppose the reason we are laughing at David Brent is because of his blind spot. It's the difference in how he sees himself and how the rest of the world sees him".
It's this same blind spot that makes Florence Foster Jenkins a hilarious and at times moving success. Meryl Streep perfectly embodies the warmth and peculiar eccentricities of Florence Jenkins, New York socialite of the 40s who loves performing amateur operatic soprano for highly selective audiences. All of whom are ignorant, impervious or just too polite to say anything about the fact that she has a truly awful singing voice.
It's a shame for Ms Streep that this film didn't access its potentially dark tones. As a light-hearted and mostly comedic tale it seems unlikely she'll win any awards for this one. Yet she gives a veritable interpretation of Florence that is as memorising as any of her more dramatic performances. The other two players that fill out the cinematic triad are Hugh Grant– dragged out of semi-retirement, and Simon Helberg (Howard of The Big Bang Theory). Hugh Grant as St Clair Bayfield, Florence's duplicitous husband, is engaging, charming, loyal and disloyal in one of his most congenial roles. His chemistry with Meryl is visceral and wholly authentic. Simon as Cosme McMoon, Florence's paid for pianist, is written as a bridge for the audience to give context and tension to the picture. As a character his polite reservations and childish awkwardness to Florence's crooning is both humorous and quite sweet.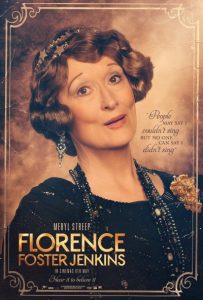 Director Stephen Frears' strength of film making is in the characters and magnetic relationships he creates. Think of his previous works: High Fidelity, Dangerous Liaisons and The Queen. Florence Foster Jenkins fits well within this list of cinematic achievements. While the film is marketed as a biography and comedy, its real strength lies within the verisimilitude of Grant and Streep's intimate and complicated bond. Bayfield devotes himself as Jenkins' confidant and executor of all her wishes. Due to her debilitating syphilis (at the time a terminal illness treated with mercury and arsenic) he sleeps separately to her. Lovingly kissing her forehead he proceeds to spend his nights with a secret girlfriend. When jealousy inevitably rears its head, it's quite evident he truly is devoted to Florence.
Whilst comedic tension drives much of the movie (Meryl's god awful singing is consistently hilarious!) dramatic tension is what gives the film momentum, and engages the audience in the latter half of the feature. After protecting her from bad reviews and unbiased audiences, Bayfield finds himself between a rock and a hard place as Florence insists on singing at the renowned Carnegie Hall. Relatively the stakes do seem low, but Frears' clever pacing, framing, and the personable relationship the camera brings to his characters, attains for that to create riveting viewing.
Florence Foster Jenkins coasts along for the most part as a tightly cut and well-constructed film, finishing in a highly emotional and frisson inducing crescendo. The ending of this movie really can't be praised enough, hitting every note precisely (reminiscent of Take This Waltz – another great film containing a perfect, breath stopping end). This is a charming film for every golfer who can't swing, every kitchen dancer, every shower singer and any amateur with unbridled enthusiasm for their passion. "They can say I can't sing," whispers Streep, "but they can't say I didn't sing". This is heartwarming viewing which will have anyone walking away with a smile and perhaps a few tears of laughter or melancholy.
Florence Foster Jenkins is in cinemas from 5th May through Entertainment One.