Remember the last few years of high school when you thought you were all grown up and knew about how the world worked? Writer/Director Martin McKenna certainly seems to, because he's able to capture it with a deft eye in his debut directing feature Is This the Real World
Reuniting quite a few cast members of Puberty Blues, the film begins with Mark Blazey (Sean Keenan) starting at a new school after flunking out of his previous one. School really doesn't seem to suit him and he doesn't seem to suit the school system. Initial friendships are difficult to make, and the school's almost tyrannical vice principal (Greg Stone) complicates things even further.  His brother, played in a debut acting role by Matt Colwell who most people might know better as '360', is only a few court appearances away from a prison sentence, and his grandmother (Julia Blake) is comatose after suffering a stroke. His life seems like a hopeless affair except for Kim (Charlotte Best), the girl with whom he first experiences the throes of first love.
It's no secret that Australia cinema is in a pretty dire situation at the moment for the simple fact that we make fairly decent films that no one ever goes and sees at the cinema. When asked what their problem is, the majority come back explaining that Australian cinema is usually quite bleak and depressing. Is This The Real World? doesn't exactly fall into this rather grim assessment but it isn't always an easy ride. It has a couple of very good performances, some excellent cinematography, and a great score, but overall is let down by an overcooked script.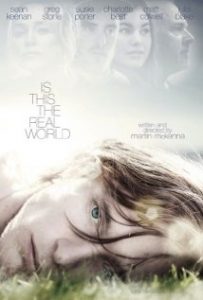 McKenna has done the rounds writing for Australian television. His credits include Packed to the Rafters, Neighbours, All Saints and Something in the Air. The script here does have some genuinely good moments, but ends up being fairly unremarkable and ends by simply checking off notes from the 'Coming of Age' checklist.  There's also one particular bit at the end where the whole thing jumps the shark – with one character doing something that gets shrugged off when it would probably require a court case over attempted murder if the laws of common sense were applied.
Sean Keenan is making a name for himself with all the projects he's involved in and his James Dean-ish performance here makes for a very adept leading man. Also of note is Greg Stone, who gets a character which seems to be very bland on paper, but manages to make him into a great antagonist. In his first screen appearance Matt Colwell holds himself very well; if he tries his hand at acting again it'll be interesting to see where he goes next.
Cinematography by Ellery Ryan is excellent. The Australian suburbs aren't what you'd call scenic but he captures them beautifully. This combined with some truly great work around the local coasts and under water shots makes the photography the stand out here. The score by Robert Murray Jamieson is also excellent.
Despite not reaching the heights that it should, McKenna has crafted a fairly solid film as a debut feature which taps beautifully into that strange time in life when you first get independence but then realise how daunting this adult business can be. 'Is this the real world?' ask most people at this age 'Is this it…Is this really what life is like now?' Afraid so. Get used to it.
Is This The Real World is in cinemas from 2nd June through Label Distribution.