Fourteen years on from the original Ice Age, it's hard to believe that we have now come to the fifth of the franchise, Collision Course, here directed by Mike Thurmeier and Galen T. Chu. Having not seen the last three (the first I recall was very enjoyable), it's hard to say whether this franchise has finally lost its steam or that it lost its steam a while ago and no one really noticed. Clearly it has all but exhausted any inspiration the writers (Michael Berg, Yoni Brenner, Aubrey Solomon, and Michael J Solomon) could gauge from actual history or archaeology, because this is the weirdest Ice Age I've ever seen, and frankly I'm a little worried some kids are going to be bringing some pretty strange preconceptions to history class.
Scrat the chipmunk, as always, continues his quest to hold on to an acorn. Stumbling upon a spaceship in the ice and flying it into outer space, he triggers the making of the Solar System before inadvertently setting a meteor on course for Earth. Meanwhile Manny the Mammoth (Ray Romano) is trying to get to grips with his little girl growing up and having an idiot for a boyfriend. When they realise an asteroid is hurtling toward Earth, none of these concerns are put on hold; they just go on the road. They'll walk and talk it out, West Wing style. With the help of an eye-patched British meerkat, they might even come up with an unlikely plan to halt or divert the meteor.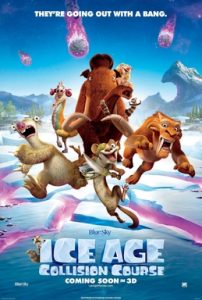 Reading that the voice cast includes Nick Offerman, Simon Pegg, Stephanie Beatriz, John Leguizamo returning as Sid the Sloth, Denis Leary returning as Diego, as well as a whole lot of other big names – Queen Latifah, Melissa Rauch, Adam DeVine, Seann William Scott, Jessie J – you'd be forgiven for thinking this instalment is far too reliant on the brand and its star power to think about brining the punters to the door through novel storytelling. And you would be right. A coherent script obviously wasn't the aim.
Mind you, the wackiness seems the point. It is so far off the mark of historical accuracy that it is supposed to be funny, but then it mimics modern culture so closely that it's hard to find any of the humour as anything but derivative. When you think back, it was the sparseness of the landscape and the closeknit banter between Sid, Diego and Manny that made the original such a success. It invested time in characters. Here they are crowded and clamouring for attention with gags that lack both timing and time to let them land.
It's like going to a party where you look forward to catching up with good mates and then discover that there's a whole lot more very irritating, shallow extroverts who have been invited. Moreover, they are going to hog your more cool friends all night. I feel like I barely saw Diego at all. He used to be such a ledge.
But you've changed. And now I hope Scrat hurries up with that meteor.
Ice Age: Collision Course is in cinemas from 23rd June through 20th Century Fox.