Indigenous Australian director Wayne Blair has made quite a name for himself in Australia in recent years for the feel-good hit The Sapphires in 2012, followed up by the impressive Cleverman, now gracing our televisions. You might then be surprised to find him directing leads of Polish and Mexican heritage in Septembers of Shiraz, an adaptation of a novel by Iranian author Dalia Sofer set during the Iranian Revolution in 1979. It was an acclaimed debut novel that depicted a Jewish Iranian family facing a time of immense civil unrest, cultural transformation and conflicting ideologies. Sadly none of these issues get a good workout in this earnest but shallow exploration of a complex time where everyone looks a little out of place.
Isaac (Adrien Brody), a jeweller, and his wife, Farnez (Salma Hayek) are carving out a comfortable living in Tehran for their daughter and son when Isaac becomes a victim of the Iranian Revolution, arrested on the charge of being a spy. With Isaac fighting to stay alive and hopefully bargain his way out of captivity, Farnez is left to take stock of the situation as the upheaval forces their hand. Accompanying Farnez on this journey is the family's servant, Habibeh (Shohreh Aghdashloo), whose own son may be sympathising with the revolutionaries and who seems to be questioning her own place in society.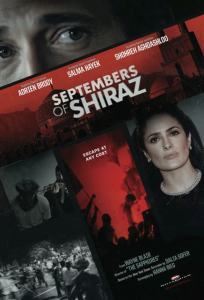 If you are looking for a film to explain the mood and magnitude of the Iranian Revolution, then this certainly isn't it. Hanna Weg's screenplay is less concerned with capturing a point in time, which might have grounded this story in a more gritty semblance of reality. Instead her focus falls to dissecting varying questions of identity – women, class, ideology. These are worthy issues, to be sure, but subtlety and exposition are rarely a comfortable duo, meaning that the expository conversations between Isaac and his captors or between Farnez and Habibeh sap these characters of at least one dimension. Weg is not so much developing their identities than acting as ventriloquist for a series of Socratic sermons that fail to supply insight.
On a brief comparison of blurbs, it seems odd that Weg and Blair wouldn't have opted for a closer script. The slim and straightforward narrative arc appears to have significantly pared back the novel's intricacies and excitement, which portrayed Habibeh as an informer and the daughter as a rebellious wild child, as well as expanding on the America-based son's alienation. Instead they leave the cast and viewers with a by-the-numbers hostage drama that would look just as at home in a series of 24. But where Jack Bauer was so unceasingly intense as to imply high stakes even at the opening of a bottle of water, Hayek and Brody just aren't very impressive. Or perhaps it is the case that they cannot carry a script, a style of direction and musical score that leaves nothing to inference.
Septembers of Shiraz is in cinemas from 7th July through Roadshow Films.