Since his last cinematic appearance in 2012, Jack Reacher has been drifting. His favourite place these days seems to be walking along dilapidated roads with his thumb up looking for a ride. Either that or it's surrounded by four or five guys trash-talking him and effectively asking for a beating. It seems to be a bit of a habit. He should stop at his age.
The brainchild of author Lee Child, Jack Reacher: Never Go Back sees Tom Cruise reprise his role of Jack Reacher and reunite with director Edward Zwick, with whom he worked all those years ago on The Last Samurai. Now an ex-army major, Reacher has been filling in his civilian days performing good deeds working in tandem with Major Susan Turner (Cobie Smulders) via the phone, all the while hitchhiking around the country. They seem to be getting on, so Reacher finally arranges to meet Turner. However, instead of dinner plans, it turns out Turner has been arrested on counts of espionage. Throw into the bargain reports of a girl who may or may not be his daughter (Danika Yarosh), and this trip to Washington DC just started to smell something rotten. Of course Reacher doesn't like being out of the loop so he's going to find out what's what.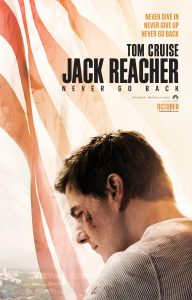 It seems like Tom Cruise has made a bit of a revival in the last few years. It must be the Liam Neeson effect. These guys who have been around so long that it doesn't really matter what their character's name is. Everyone knows Liam Neeson will take no shit; whether you're a wolf or a Russian mobster, he will find you and he will kill you. Similarly everyone knows that Cruise's characters constitute an intense ball of muscle who really don't know when to call time. His warning call here of "I will break your legs, I will break your arms and I will break your neck" isn't quite as catchy, but he can still carry a shoot 'em up pretty well. Implicit in roles like this is a reflective chuckle from the men themselves as if to say, 'Yes, this is getting a bit silly'.
It's precisely this self-parody that makes Jack Reacher somewhat successful. I say 'somewhat' successful, because it's certainly not top-flight entertainment. However much of this is fringed with humour, you wouldn't class it a comedy. It still takes itself seriously enough to delve admirably into Reacher's dated gender politics and the arms trade but also seriously enough for us to lament the lack of a better villain to hold up the plot. Writers Richard Wenk, Edward Zwick and Marshall Herskovitz might have worked a little harder to give Cruise and Smulders some competition in this regard, as the villains here are surprisingly witless even by cinematic villainy standards, in terms of both aim and banter.
Nonetheless Jack Reacher is an entertaining romp. It twists, turns, sinks a few punches, slows down once in a while and has the strong presence of Cobie Smulders to thank for keeping any monotony at bay. Give it a go. It might surprise.
Jack Reacher: Never Go Back is in cinemas from 20th October through Paramount Pictures.