Allied opens in French Morocco in 1942, with Canadian spy Max Vatan (Brad Pitt) parachuting into the desert in dramatic fashion. He is on a mission to assassinate German military officials stationed in Casablanca. His accomplice in the mission is French Resistance fighter Marianne Beausejour (Marion Cotillard). She has recently escaped Paris and is the only survivor of a previous assignment. Posing as a married couple, the two must be convincing enough to infiltrate the expatriate German community. Their efforts are rewarded – not only are they accepted in Casablanca, but a genuine bond forms between the two agents.
After Marianne and Max complete their assignment, they escape to England where they marry and have a daughter. They make their home in Hampstead, and although London is being ravaged by war, the family are living a rather idyllic life. A year on, Max's superior officers inform him that Marianne is a suspected double agent: she has been trading information with the Germans and, upon confirmation of her betrayal, Max is to kill her. Unconvinced by the military intelligence, and deeply in love with his wife, Max attempts to prove definitively that Marianne is who she says.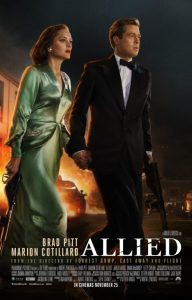 Ultimately Allied is unconvincing. What should be a tense thriller is more like an adaptation of a unexceptional wartime romance novel. Director Robert Zemeckis (and others involved) should have looked to cues from the classics . The allusions to Casablanca are obvious, no doubt, but there were more examples to draw from for encouragement. In particular, Alfred Hitchcock's Notorious should have served as a fine example of a wife trapped in a 'web of deceit'.
Although there are very good performances on the part of Pitt and Cotillard, this film is generally very disappointing. There is great chemistry between the two leads; both are experienced and professional and would likely be convincing reading the ingredients list on a cereal box. Additional cast members are impressive: Lizzy Caplan plays Max's sister, Jared Harris is his boss. Unfortunately they are given only passable dialogue and a reasonable script. While the casting is great, in this instance their collective talents seem wasted.
The film feels very staged; in many places the imagery reassembles poor CGI or green screen, rather than good sets or location shots. There must have been a pretty reasonable budget, so surely there was no need for this mediocre, amateurish look. Zemeckis is responsible for, amongst others, Forrest Gump and two of the three Back to the Future instalments; the aesthetics of Allied are really disappointing given such an impressive CV.
Allied is in cinemas from 26th December through Paramount Pictures.