Not that Jim Jarmusch went into hiding, but he's back with a new film called Paterson. This film takes Only Lovers Left Alive's meaninglessness and technophobia to another level.
Adam Driver plays the title character, a bus driver named Paterson, which is also the name of the film's setting. Located in New Jersey you could say Paterson is not quite gentrified, but certainly up and coming. You can also note that this location is a setting in Ted Fendt's indie comedy Short Stay, proving this is an exciting space for some slacker hipsters.
On Paterson's bus route, we get to eavesdrop on his culturally diverse passengers aboard the bus who connect with one another. If you've ridden a bus in the States before, then you would know that public transport, especially the bus, connects you with the whole of society. Besides being a bus driver, Paterson is also a poet. He articulates his day-to-day musings in a secret notebook. Paterson doesn't see his words as a future prospect as such, but as a way to help him interpret everyday significance.
Paterson lives with his romantic girlfriend Laura (Golshifteh Farahani) and her English bulldog, Marvin. Marvin is jealous of Paterson and like a typical bulldog, is stubborn. The dog is a delight to watch throughout, especially the characteristic of the bulldog's under bite. Using an animal for laughs is quite different to what we would expect from Jarmusch, but it is marvellous.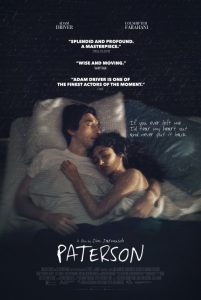 In Paterson the narrative doesn't really delve into the couple's relationship, but you can see tension. It appears Laura and Paterson are madly in love but it's their opposite interests that spawn conflict. Laura is up-to-date, following the latest food trends and social media, while Paterson belongs to another world, innocent and organic. He doesn't use technology, just his notebook.
This is a film really centred on Driver. We see Paterson through Paterson's perspective, which does make Laura's current trends or obsessions quite funny and absurd, and you do get to laugh at eating quinoa. On the other hand, Paterson's dry behaviour, although it isn't that much easier to connect with, it is a constructive and refreshing outlook to aspire to. The character of Paterson is strange and straightforward. Being a Driver focused script makes this a real treat. He plays this role with conviction and mood. Farahani is also delightful giving her two cents as Laura. The character is feminine, exciting and equally strong. Driver and Farahani make this narrative come alive as a team.
Paterson is a dry, existential piece. The fourth wall is broken on many occasions, suiting the floaty texture of the film. Jarmush's attention to the fourth wall is not played to be meta or didactic but simply a way to interpret Paterson's poetry. Like the character, the structure of his poetry challenges tradition rhyming couplets. It adheres to the everyday and non-conformity of the world he belongs to.
More than just an enjoyable piece, it has grandeur. Paterson is a film with many layers and avenues to explore and equally enough to find on first viewing. It is slow and steady and downright cool.
Paterson is in cinemas from 22nd December through Madman Films.