No, there's no Marlon Brando here, but there is a loveable ginger cat and one uplifting true story to go with it. Based on James Bowen's autobiography, A Street Cat Named Bob tackles homeless, drug addiction and redemption, all under a PG rating.
James Bowen (Luke Treadaway) is a heroin addict who busks for a living and is desperate to get clean. With the assistance of his support worker Val (Joanne Froggatt), he starts a methadone program and is provided with accommodation. When a stray ginger turns up he takes an immediate liking to the loveable ball of fluff, seeking help from his neighbour Betty (Ruta Gedmintas, a Delta Goodrem lookalike) who names the cat Bob. After tending to a hurt Bob for a short time, James attempts to send him on his way. But Bob isn't having a bar of it, going so far as to follow James onto the Islington bus and travelling with him to Covent Garden. Here he helps James become quite the tourist attraction, and proves a true companion throughout all of James' ordeals, including the withdrawal week from hell.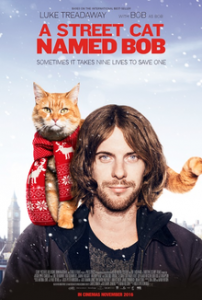 Roger Spottiswoode of Turner & Hooch fame directs, and he makes Bob the true star of the show. Various shots are from Bob's own point of view, and audiences will delight in his behaviours throughout the film (ones that all cat-owners will recognise). Of course, it's not such a stretch for this feline to get Bob's individual quirks (such as jumping up on James' shoulders) down pat, for he's played by none other than THE REAL BOB, making the film feel just the slightest bit more special.
While it's rated PG, the film does deal with some big social issues such as homelessness and drug addiction. It might be a bit much for young viewers, but at the same time it's restricted by its rating, unable to show these issues in much detail. For this reason it sometimes feels like there isn't a great deal of substance in the story. Instead it is one quirky tale of rags to near riches, with a semi-love story thrown in for good measure, interspersed with heaps of entertaining shots of a cat being a cat. Nevertheless, it is a sweet telling about a man who turned his life around due to a chance encounter with an animal. It may even inspire viewers to buy a copy of The Big Issue to help out the homeless. While it isn't quite up there as a fine piece of cinema, it will hopefully serve as a catalyst (no pun intended) for compassion towards those less fortunate. And that's certainly a win.
A Street Cat Named Bob is in cinemas from 9th February through Sony Pictures.