Donald Trump and his "fake news" catchcry has recently forced the media and public into a discussion on truth and objectivity. But Trump and the savvy opportunists who fabricated online stories to help him win an election are merely the latest perpetrators in a long history of influential liars.
Denial is a pertinent reminder of that. Its subject matter will no doubt hit close to home for those following American politics at the moment, but its frustrating case study also demonstrates how embellishing facts and second-guessing history is not merely a fad of the Facebook era.
Mick Jackson's true-story film focuses on one of the 20th centuries most dangerous lies – the idea that the Holocaust perpetuated by Adolf Hitler in the Second World War never happened. Denial reflect on this through the 1996 court case of David Irving vs Penguin Books and Deborah Lipstadt, in which Holocaust denier Irving accused historian Lipstadt of libel.
By focusing on the meta-narrative of the Holocaust rather than the genocide itself, Denial is more law-and-order drama than a gut-wrenching re-telling of Hitler's brutality. Being one or two steps removed from these events allows the audience to consider the themes of objectivity, media representation and gender, rather than the usual themes elicited by films about the Holocaust.
Timothy Spall is in equal measures charming and repulsive as Irving, making him a perfectly cast villain. While his argument is seemingly untenable, his media-friendly rhetoric and emotional appeals help us understand what the public found so compelling about Irving's counter-narrative. By extension, his performance may help audiences better understand the appeal of people like Trump.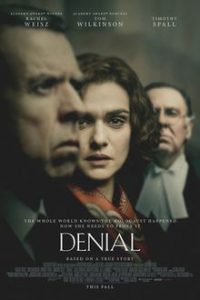 His opponent Rachel Weisz is similarly well cast as Deborah Lipstadt, an assertive and intelligent historian with a great passion for her work. Our familiarity with Weisz playing strong female leads, however, makes it all the more difficult to watch her character pushed into a submissive and largely silent role by her high-profile lawyer Anthony Julius (Andrew Scott).
Lipstadt isn't the only female character who loses her voice. Little respect is shown to the few other female characters given screen time; the only female lawyer, Laura Tyler (Caren Pistorius), is ridiculed by her partner for obsessing over the case, while Auschwitz survivor Vera (Harriet Walter) has her trauma drowned out by the legal big wigs. These female characters are perceived to be guided by emotion, in contrast to the strictly rational men of the law.
While such unequal representation means Denial might struggle to pass the Bechdel Test, it's possible that this imbalance is intentional. True to the film's message, Jackson has done his best to reflect the historical reality of the trial as accurately as possible. Doing so means that the male-dominated domain of the British legal system is represented by a male-heavy cast.
In this regard, the film is not necessarily the good-vs-evil narrative it appears to be on first glance. What it does is leave the audience with a tension; we must contemplate whether Julius' approach was correct, or whether their directives were guided by their own unconscious prejudices. Julius' argument is that Lipstadt's silence will help them win the case, but the omnipresence of the media throughout the film delivers a constant reminder that the legal system is merely one influence on the public's opinion.
Even though Lipstadt sometimes struggles to influence her own biopic-of-sorts, she is nevertheless the star of the show. Whereas her Julius is a robot – albeit a highly effective robot – Lipstadt is exposed as a multi-dimensional woman with numerous strings to her bow. Her intelligence and resoluteness is applauded, as is her compassion; she is seemingly the only character trying to ensure the story of the Holocaust is actually told in this film that both is and isn't about the Holocaust.
Denial is in cinemas from 13th April through Entertainment One.